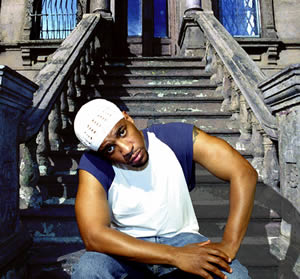 Masta Ace, the man is a legend, plain and simple. In a career that has spanned three different decades, Ace is still at the top of his game and like Jordan (at least the first time) could be going out while he is in his prime. Not many "Old School" artists still have the ability to grab the younger audience present in todays music. From the Juice Crew to the INC (FUCK MURDER INC! unorginal bastards) to GMC (what?? You ain't heard?) Ace has evolved and and grown with the industry better than anyone from the 80′s.
As you can probably tell, Ace is my favorite artist, and has been since the classic and EXTREMELY underated "Slaughtahouse" dropped, so it was only natural that I drop some of his stuff soon after starting this little hobby of mine.
The first track is from the Slaughtahouse 12″. The remix of "Style Wars" is in my opinion a better version of the orginal that apperead on the "Slaughtahouse" LP. With horns and a "hut one, hut two, hut three, that is the sound when it's time to go to war" that gets you amped as Ace rips it like only Ace can.
The second song, "Spread It out" can be found on "Hits U Missed Vol. 1″ which I'm not totally sure where you currently find it at, maybe on the newly remoldeled http://www.m3hiphop.com/. It's something different from M.A., kind of a bounce type flavor to it, that samples "The Simpsons Theme". It kind of grows on you and Ace spits rapid fire lyrics.
The third song is "Keep Livin'" which was the B-side to the only single released from the shelved Big Beat album. It features Gemini, or Jemini, from Jemini and Dangermouse fame.
Not For Long (NFL) is probably one of my top 5 Ace songs. It features J-Love on the beats, and to this day, I've never understood why he hasn't produced any tracks for any of Ace's albums. Ace displays some good old fashioned story telling with this track. The strings are melodic and you get sucked into the story, although short and sweet.
The last track is also found on "Hits U Missed". "Cars" featuring Spunk Bigga was the only single released by Big Beat from an album that got shelved. It stays with the "Sittin' On Chrome" flava that sounds more west coast in flavor than his other offerings. It's not my favorite by any means, but here it is for you "Sittin' On Chrome" fans.
Masta Ace- Style Wars (remix)
http://rapidshare.de/files/8746408/Masta_Ace-_Slaughtahouse_12__05-style_wars__remix_-jce.mp3.html
Masta Ace – Spread It Out
http://www.megaupload.com/?d=WQXHLVQL
Masta Ace feat Gemini & Villano
http://www.megaupload.com/?d=VE7R83VO
Masta Ace- N.F.L (Not For Long)
http://www.megaupload.com/?d=4MD2S3DQ
Masta Ace feat Spunk Spigga – Cars
http://www.megaupload.com/?d=PH2FCYVI
Posted by Travis aka Glavet