It's that time again, Friday, where we bless you with the goodness. It's the end of the work week, time to get your dance on, your drink on, you freak on and we here at WYDU endorse all of that. We are here to supply you with those funky, fly, fresh dope beats, so let's jump right into it.
Son Of Bazerk Feat No Self Control & The Band – Bazerk, Bazerk, Bazerk (MCA, 1991)
http://www.sendspace.com/file/s7r7f3
We jump into part two of my own personal favorite albums today. The album
we have today is quite possibly one of the most overlooked albums ever in my opinion. Son Of Bazerk was a "group" of sorts coming straight outta Strong Island, backed in it's sonic soundscape by the almighty Bomb Squad. Bazerk was the lead MC, backed by No Self Control & The Band, which according to the inner liner notes, consisted of MC Halfpint, Almighty Jahwell, Daddy Rawe, and Sandman, all which pop up through all the album. As much as the group dynamic is strong and adds to the album, the main reason this album grabbed my attention was the crazy, crazy noise, provided by The Bomb Squad.
It was 1991, another number, another summer, and The Bomb Squad was THE Squad on the production tip. They made music out of noise and as much as PE's It Takes A Nation Of Millions… was created out of chaos, Bazerk, Bazerk, Bazerk took that just a step further. Pure, unadultrated noise and it was beautiful. The Bomb Squad was known for it's twisting of samples and making them almost unrecognizable, and this album was no different. Driving basslines dominate tracks, heavy scratching, driving synths and looped guitar riffs that help add to the absolute craziness of the album. It's as if someone had a bucket full of musical concepts and threw it at a canvas and this is what came out of it. I love albums like this, and there is a reason The Bomb Squad is my second favorite, this album just adds to the legacy.
As far as the lyrics, SOB has enough style and vocal presence to not detract from the flurry of sounds coming at the listener. On some tracks such as What Could Be Better Bitch Bazerk actually is the main focus of the track, which doesn't happen much on the album. On other tracks such as the single Change The Style, he even adds to the chaos on the track. His half shouted/half sang flow suites the tracks fine. With his crew splattered through out the album, it comes off as kind of a 60′s funk/soul album half the time. Sure, some concepts on the album fall short to keep it from being a bonafied classic, but the tracks that standout are more than enough to make up for any short commings.
I'm sure some people will think I'm crazy mentioning this in the greatness of so many classic albums, but this album got constant play from me for a year or two (at least until Masta Ace INC's Slaughtahouse dropped in 93′) and the production makes it one of my top 10 favorite produced albums of all-time. Standout tracks: The Band Gets Swivey On The Wheels, Part One, Change The Style, One Time For The Rebal, What Could Be Better Bitch, Trapped Inside The Rage Of Jahwell, Are You With Me, J Dubs Theme (TIGHT FUCKING SONG)
Four and Half panties out of Five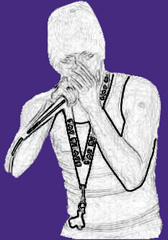 The Art Of Beatboxing
http://www.sendspace.com/file/u22dlk
This next offering is shrouded in mystery. I'm not sure if it's a legit album, or some kind of homemade compilation, but it's a fine collection of beatboxed based songs and live performances by some of the all-time beat box greats such as Biz Markie, Doug E Fresh, & Rahzel. I've always considered beatboxing as the fifth element of hip hop and this little compilation is the only thing I've ever seen covering the art on an album of sorts. I looked online and found nothing for it. A folder in the Rar. directs to a internet site, but I can't find anything tying the site and the compilation together.
Anyway, I'll leave it at that. I recieved it without track numbers, so it's all in alphabetical order. Thanks goes out to our blog designer, Dawg aka Chris of the almighty Bombfirst.com and the new illhill.com/gunspiracy site concentrating on the underground hip hop stylee.
Thanks, everyone have a safe night and weekend…
Travis