It's still a few months until christmas, but WYDU has a bag full of goodies for you all. You asked, and if we had it, we came with it. So let's jump into shall we….
First Up, for thebridgeisover, hopefully this is covering the 12″ single "The Ultimate Drive By" you were looking for from Success N Effect, with these three uploads by Brian. If anyone out there has their self titled debut, please hook us up. I've been searching high and low for that. This group was out of the ATL in the late 80′s early 90′s. The first album was more influenced from the bass sound, while the last two were more west coast sounding and political in nature.
Not exactly sure what this one is, I don't have it, so maybe Brian can drop some knowledge on this bad boy. From 1990?
http://rapidshare.de/files/24122019/Success_N_Effect_-_In_The_Hood.zip
PROPS TO RAPCHWAST for orginally upping these in June
Success N Effect – Back In Effect, 1991

http://rapidshare.de/files/32311034/Success-N-Effect_-_Back-N-Effect.rar
1. Angel Dust
2. Blueprint
3. Robo's Housin
4. 7′G's I'll Flow
5. Slick The Slick
6. Real Deal (Holyfield)
7. Nuthin But Suc'cess (So Use It) (Atlanta Style)
8. Mack Of The Year
9. Jump 2 It (House From The South)
10. So Many Faces
11. Slow Flow
12. Nuthin But Suc'cess (So Use It) (Miami Style)
13. 360 Degrees
Success N Effect – Drive By of Uh Revolutionists, 1992
http://rapidshare.de/files/32309370/Success-N-Effect_-_Drive_By_of_Uh_Revolutionist.zip
1. Intro 2. Success N Tha House 3. Cinfrontation In Mosley Park 4. Bucking On Dope Niggers 5. Bullshit Views 6. Raised From Depression 7. Brainwashed Niggers 8. Real Black Souljas 9. Gameplan 10. Ultimatedrive By 11. Police Brutality 12. Fuck1 Time 13. Wblk (We Be Black) 14. Black Radio Aint Black 15. Pimps And Players 16. Out Ta Get Rich 17. Warr 18. Forty Aces And A Mule 19. Fuck The System 20. Comin' Up 21. Voice Of A Black Revolutionist 22. The Other Levell 23. Change The Dial 24. Final Call
Hopefully that's kind of what you are after. As far as an album it's self called "Ultimate Drive By", I couldn't find any info on an album by that name. As far as I know, they had their self titled debut then these other two. As I mentioned I'm not totally sure what the other zip is yet. Hopefully Brian kind shed some light on that.
Here's and oldie but goodie, requested by ZK, and upped by Brian in the cbox.
D- Nice – Call Me D-Nice (Jive Zomba RCA, 1990) http://rapidshare.de/files/32318503/D-Nice_-_Call_Me_D-Nice.zip
01 Crumbs On The Table 02 Call Me D-Nice 03 Glory Co-producer – Carl Bourelly 04 The TR 808 Is Coming 05 Under Some Budda Co-producer – Sidney Mills 06 It's Over Co-producer – Carl Bourelly Featuring – Dawn Lewis 07 A Few Dollars More 08 It's All About Me 09 Pimp Of The Year 10 And You Don't Stop
Heavy D – Blue Funk (Uptown MCA, 1992) http://www.megaupload.com/?d=IUUCMBMM
1 Truthful (4:41) 2Who's The Man? 3 Talk Is Cheap (4:04) 4 Girl (4:57) 5 It's A New Day (5:20) 6 Who's In The House (4:10) 7 Love Sexy (4:28) 8 Slow Down (4:12) 9 Silky (3:42) 10 Here Comes The Heavster 11 Blue Funk (4:33) 13 Yes Y'all (4:01) 14 Bunch Of Niggas (4:59)
My favorite Heavy D album. Uppded for Crooklyn and Mr. Anonymous.
Thirstin Howl III – Skillionaire (Skillionaire Enterprises, 1999)http://www.megaupload.com/?d=Y8UZHL8X
Here's an intereresting little joint, requested by Herman The German on Biff's site actually, but I've also seen him on here as well, so we'll go ahead and include it as well. Thirstin is one of you quinessential Brooklyn MC's, rough and rugged and infamous for his Lo-Life crew which had a dope series in The Source magazine back in the late 90′s (I think) about how they used to shop lift Polo gear back in the day. I first heard Thirstin on the Soundbombing II album, with his "Brooklyn Hardrock" joint and really liked it. Found these two albums in a little mom and pop store while in Portland, Oregon and grabbed them. They aren't bad, some freestyles over pre-exsisting beats, but they are entertaining.
1 Still Live With My Moms 2 Spit Boxers 3 Keep On Chuckin 4 E-Dubb's Mixtape 5 Brooklyn Hard Rock 6 Million Man Rush 7 Even (Interlude) 8 Thirsty, Greedy 9 Guess On The Mix 10 Frogstyle 11 Drunkfist Meets Frogstyle 12 John They're Stealing Part 1 13 Morning Show Part 1 14 Either – Or (Interlude) 15 Bury Me With The Lo On 16 Bahamadia's B-Sides 17 Swena, Swena 18 Puno Boratcho 19 John They're Stealing 20 Bad Things 21 Morning Show Part 2 22 Off His Head 23 Bathroom Cipher 24 Babee Farra (Interlude) 25 Chicken Chockers 26 DJ Yooters Mix Tape 27 Gold Card Membership
Thirstin Howl III – Skillosopher (Skillionaire Enterprises, 2000) http://www.megaupload.com/?d=39MZZ5FB
1 Stole 2 Brooklyn Hardrock 2 3 How Many Babbee Mova's 4 The Polo Rican 5 Love and Loyalty 6 Young Viejo 7 I Wanna Watch 8 Skill Or Be Skilled 9 Like Mother Like Son 10 Spitacular 11 Tell Me If You Heard This Rhyme (Interlude) 12 Pana De Que 13 Death Becomes 14 Russian Roulette 15 Mos Def & Th
irstin Freestyle 16 Open Mike Night 17 DJ Enuff Promo 18 Watch Deez
Son Of Bazerk feat No Self Control and THe Band – Bazerk, Bazerk, Bazerk (MCA, 1990)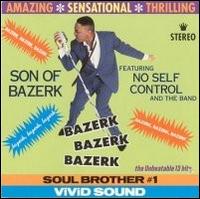 http://www.megaupload.com/?d=0W0VLXJU
01 The Band Gets Swivey On The Wheels (3:37) 02 Part One (3:42) 03 Change The Style (3:11) 04 One Time For The Rebel (4:16) 05 What Could Be Better Bi*** (3:18) 06 Bang (Get Down, Get Down) ! (5:11) 07 Trapped Inside The Rage Of Jahwell (2:30) 08 Sex, Sex And More Sex (3:04) 09 N-41 (4:06) 10 Are You Wit Me (4:57) 11 J Dubs Theme (3:56) 12 Lifestyles Of The Blacks In The Brick (3:01) 13 Honesty (4:11)
Re-up for my fellow Bomb Squad fan, Hardie. We all know how I feel about SOB & the Bomb Squad, so I won't get into that.
Last but not least, here is a request for Fosterakahunter, that was put up on Bust The Facts not too long ago and it's where I got it. Kings Of Pressure's "Slang Teacher", so all credit due to Dread and the Bust the Facts crew, make sure you check that site out. (new link upped by me, but I got the album from that site)
Kings Of Pressure – Slang Teacher (Next Plateu, 1989)
http://www.megaupload.com/?d=SJS3BVIZ
01 – Gator Posse 02 – Rappers Have Feelings 03 – So Simple 04 – Call Me On The Telephone 05 – Who's Gonna Take The Bait 06 – Brains Unchained 07 – Smooth As A Violin 08 – Slang Teacher 09 – Tales From The Darkside 10 – Nozy Bodies 11 – Give Me The Mike 12 – You Know How To Reach Us 13 – Tales From The Darkside (Cut Shock Mix) 14 – You Know How To Reach Us (DUB)
WYDU VOL 3 http://www.megaupload.com/?d=HC5FQNS2
1. Three Times Dope- The Greatest Man Alive 2. Stezo – It's My Turn 3. Milk- Get Off My Log Feat Big V 4. Black Sheep- Without A Doubt 5. A.D.O.R – Let It All Hang Out (Pete Rock Remix 6. E-Rule- Listen Up 7. The Nonce- Mixtapes 8. Souls Of Mischief- Cabfare 9. Cru- Blunts and Bakakeemis feat Antoinette, Tracey Lee, and Jim Hydro 10. Das EFX- Real Hip-Hop (Pete Rock Remix) 11. Poor Righteous Teachers- Rock Dis Funky Joint 12. Intelligent Hoodlum (Tragedy Khadafi) – Arrest The President 13. Just-Ice- Going Way Back 14. Akinyele & R.A. The Rugged Man- What The Fuck 15. Smoothe Da Hustler feat Trigga Tha Gambler- Broken Language 16. Money Boss Players- What U Sayin 17. Mobstyle- Mobstyle 18. The Flavor Unit MC's (Extended Version)- Roll Wit Da Flava 19. King Tee feat Ice Cube & M.C. Breeze- Played Like A Piano
WYDU VOL 8 http://www.megaupload.com/?d=HL5IPZGP
1. Back From Hell (remix) – Run DMC feat Ice Cube & Chuck D 2. Frankenstien's Pain – Frankenstien 3. The Band Gets Swivey On The Wheels – Son Of Bazerk 4. Check The Elevation – Tony D 5. Jayou – Jurassic 5 6. Illusions – Cypress Hill 7. One Eight Seven (Deep Cover 2) – Dr. Dre & Snoop Dogg 8. Drive By Miss Daisy – Compton's Most Wanted 9. Westside Slaughtahouse – Mack 10 feat Ice Cube & W.C. 10. Comin' Like This – 2nd II None feat DJ Quik, Hi-C, & AMG 11. Afro Puffs (extended version) – Lady Of Rage feat Snoop Dogg 12. The Renaissance – Amad Jamal 13. Tekzilla – Common 14. Logistics 101 – Louis Logic 15. Rush Ya Clique – The Outsidaz feat Eminem 16. Pardon Me- Dres 17. The Orginators- The Jaz feat Jay-Z 18. Ain't Nuthin To It – K9 Posse
REQUESTS that didn't go through (and a couple of my personal requests), if anyone has them, feel free to share….
Kings Of Pressure, "Gimme The Mic;
Dream Warrior's 2nd LP Subliminal Stimulation;
Side FX – This Is a Journey;
MC Downbeat – It's A Shame;
Bobby Jimmy – He's A Felon ( Single );
M-4-Sers – I'm A Star;
Tony M.F. Rock – Let Me Take You to the Rockhouse;
Tony Tee – Time to Get Phy
Krushin MC's LP 1988 (K.M.C.Kru) It Contains the song "Grab A Book" CAN BE FOUND ON BUST THE FACTS BLOG
Ice Cream Tee – Can't Hold Back
-The Hard Boyz -"Mind Terrorist"
arabian prince – situation hot (1990)
awesome dre & the hardcore committee – a.d.'s revenge (1993)
b-fats – music maestro (1989)
boogie down productions – untitled ep (1985)
cool c – life in the ghetto (1990) THANKS TO GO14
daddy-o – you can be a daddy, but never daddy-o (1993) THANKS FOR PHATSOUL
Def IV- Nice & Hard CAN BE FOUND ON THE COCAINE BLUNTS BOARD
dr. dre and tony a – jack move (rodium swap meet megamix) (1989)
Fila Fresh Crew – Tuffest Man Alive CAN BE FOUND ON BUST THE FACTS BLOG
gigolo tony & the ghetto soldiers – living in a concrete jungle (1993)
jesse jaymes – thirty footer in your face (1991)
L'Trimm – Grab It
Drop That Bottom
mc a.d.e. – an all out bash (1991)
mc a.d.e. – in the arms of bass (1994)
mc a.d.e. and posse – just somethin' to do (1987)
mc twist and the def squad – comin' thru like warriors (1989)
nemesis – munchies for your bass (1991)
poison clan – poisonous mentality (1992) THANKS TO BRIAN
poison clan – ruff town behavior (1993)
powerule – volume one (1991)
E Rule – Cold Currentz
rodney o & joe cooley – get ready to roll (1991)
ron "c" – "c" ya (1989)
schoolly d – how a black man feels (1991) THANKS TO SEV ONE
stetsasonic – blood, sweat & no tears (1991)
Stretch & Bobbito Shows
vicious bass featuring dj magic mike – back to haunt you! (1988)