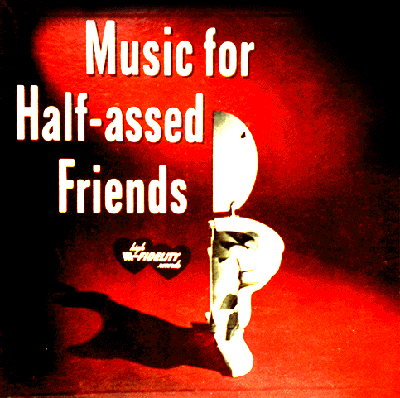 Well once again, there will be a postponment of the post that was originally to be done Friday. I wrote the thing up on my home computer, saved it as a word document, burned it, along with some rar. files of some requests, brought it to work and……….there was nothing on the disk when I went to load it this morning. So either, hopefully, I have a bad RW-Disk, or my brand new computer isn't working right. I haven't tried to burn anything to a disk yet, except that, so I'm not sure. I don't have any normal disks right now to try that.
Anyway, since work has been busy this week, and for some odd reason I'm supposed to actually work while I'm at work, I'm putting up another half assed post just to get by with. Not much time for writing (and me being the perfectionist I am when it comes to doing this damn thing, it bugs the fuck out of me) so you'll get some EP's, one request (sorry about the timeliness of the others) and some words thrown together, and we'll call it a post.
Del The Funkee Homosapian – The Lost EP http://www.zshare.net/download/del-tha-funkee-homosapien-lost-ep-rar.html
Sorry no track list or cover art. I don't even remember where the hell I got this. A blog? Cocaine Blunts? Hell, I don't remember. Honestly, I think I listened to it once or twice so I don't even remember what it contains. I had with me, so up it goes!
Diamond D – The Remix EP http://www.zshare.net/download/diamond-and-the-psychotic-neurotics-remixes-reissue-ep-2003-rar.html
1. Sally Got A One Track Mind (Showbiz Remix)
2. Best Kept Secret (Extended LP Mix)
3. Best Kept Secret (Instrumental)
4. Check One, Two (Diamond Vibe Mix)
5. Sally Got A One Track Mind (2 Track Beatdown Mix)
6. Feel Da Vibe (LP Diamond Mix)
If I remember right, this was a white label vinyl only mix that Polarity blessed me with. I'm sure it's been up before, but that's what a half assed post is, a bunch of re-runs.
Someone wanted this. I had a nice little write up for the album on the post on my home computer…butttttttttt……Dame Dash initial project, yeah, that Dame Dash. The album sounds a lot like the first KMD album, and the Native Tongue movement come to think of it, which is a good thing. Good review of it here
The Future Sound – The Whole Shabang Vol. 1
http://www.zshare.net/download/future-sound-rar.html
1. Intro
2. This Is a Game
3. Function
4. Flashback Relay and The Whole Shabang
5. Star Struck (Caterpillar Style)
6. Thread
7. Bop Step
8. Lady/What's a Bro to Do?
9. Pixie Groove
10. Scriptic Cryptic
11. Primates in Stitches
12. Flashback Relay and The Whole Shabang (Wig Out Mix)
13. Sucka Set 14. Jungle-O
15. When the Ends Meet (Life of the Futuristic B-Boy)
Sorry for the half-assed post. Hopefully I'll figure out what the fuck is wrong with the computer and fix it, or I'll just re-write the whole thing, which isn't really what I want to do. I need one of those flash sticks or something. Or home internet……Fuck it all
Trav