I was lucky enough to do an interview with DoItAll of the Lord of the Underground. The Lords of the Underground (L.O.T.U.G.) are a hip-hop trio out of New Jersey made up of MCs Mr. Funke, DoItAll Dupré & DJ Lord Jazz. I can honestly say that I was fired up to get the chance for this interview, LOTUG is one of my all time favorite groups. You know the sound; the lyrics you can sing along to and the beats that were grimey and made you want to get up an move. Their music made you know they were doing it for the love of Hip Hop.LOTUG have released 4 albums and the first two, Here Come The Lords (1993) and Keepers of the Funk (1994), earned them an award from BET in 1993. They came back in 1999 on Queen Latifah's label with Resurrection and again last year with House of Lords. Recently Nas mentioned them on the East Coast remix of "Where are They Now?"
DoItall has been busy to say the least. He has an acting career, a record label and a new internet TV show coming out this spring. We chopped it up a bit I was able to ask him about the foundation of LOTUG, how he feels about the state of hip-hop today and how his feelings about the digital age of music.
WYDU: Hey how have you been DoItAll?
DoItAll: I've been busy grinding like a slow dance
WYDU: Lets start with the basics: When did LOTUG get together, how long have you been in the rap game? And who are some of your influences?
DoItAll: LOTUG came out in 1991 & some of my influences are James Brown, Sam Cooke, Marvin Gaye, Stevie Wonder, Rakim, LL Cool J, Run DMC, TLA Rock, Marley Marl, Big Daddy Kane, & the Sugar Hill Gang
WYDU: Can you tell us about meeting Mr. Funke & DJ Lord jazz at what I believe was Shaw University? Did you guys hit it off right away?
DoItAll: I met Lord Jazz and Funk at Shaw University in North Carolina. Even Though Funk & I are from the same city we knew and hung around some of the same people but didn't link until we went to school together. Lord Jazz was the popular Dj Around campus and Djayed at our school Radio station. Funk and I were the dudes always rhyming at the parties and around campus. A friend of Lord Jazz's at the time by the name of Derrick Jackson who later became our manager and is Scott Storch manager, was also Marley Marl's cousin and told Lord Jazz to put together a group for Marley to hear, and Lord Jazz put Funk and I together.

WYDU: Tell us about working with K-Def, producer of some of the most influential sounds of the 90′s and beyond. And what kind of influence was Marley?
DoItAll: You will have to talk to K-def about K-def….Marley was the master plan behind Lords Of The Underground. Marley gave us our direction, and is one of the Legendary producers in the Hip-Hop Game!
WYDU: Do you have one favorite LOTUG song? Can you share what makes it special for you?
DoItAll: I have many favorite LOTUG songs. One that comes to mind right now is Earth, Wind & Fire featuring Joya off of the RESURRECTION album, but I have many. What make it special for me is the feeling of the verses and the way the music hits me when it's playing.
WYDU: How is today's rap music different from the mid-90′s? Do you feel that the quality of today's music is declining or it is just an evolution of the genre? The music as a whole is hurting for sales, what is your take?
DoItAll: The difference to me is that the industry has become so corporate that the business has clouded and manipulated a lot of artist creativity. When you don't let your talents flow naturally and let your artistry be organic, it's hard to find your passion. When you create for false reasons and monetary gain your creativity loses it's integrity and no longer feeds soul. The difference between now and the 90′s is that we had nothing to lose and everything to gain. Now that Hip-Hop is big business there are less risk takers and most companies won't take a chance on something unique because there is too much to lose. I will have to say that yes Hip-Hop has evolved, but just because moves or grows doesn't always mean that it is growing or moving for the better. Some of the things we eat may have certain nutrients it, but overall may not be good for our body. This how I look at the music today, and as far as the sales times change technology has even the playing ground in some regards, but we as independent companies, and business men and women have to realize it and use it to our advantage before the record & music industry is able to devise a plan to get it back like it was before the digital era.

WYDU: That leads into my next question, how do you feel about all the downloading and file sharing on the internet? Do you spend anytime on the internet reading blogs, downloading etc?
DoItAll: I feel that we have to find ways to protect the writers, artist, & producer of the music, but even when we do have safe ways to protect the music someone will always find a way around that. Downloading is cool if it is protected. I haven't got into the downloading music off the net yet, maybe I will, and I don't really get into reading the Blogs too much, but I have read some and I look on some of the Hip-Hop site. I have to stay up on it because the net is a big playing field for our music now.
WYDU: What was it like working with Nas on "Where Are They Now?" How does it feel to be on that song with some of the other all time greats?
DoItAll: It was a blessing and an honor. Even though we didn't record in the same studio's, but just for Nas to want to pay homage and show respect to his peer, and the ones that came before him is great sign of respect.
WYDU: We have a lot of heads from Europe that read this board, it seems like Europe is really embracing hip-hop in a big way. They have also been embracing a lot of the pure, classic, old school artists, can you speak on this and how it has been to travel to Europe and all around the world?
DoItAll: Hip-Hop in Europe has not been manipulated and corrupted by the Corporation who puts the music out to the world as much as it has in America, so the fans get to enjoy the essence of what they believe is hot, not what the corporation is feeding them. That's why Hip-Hop from the early days still survives over there. They dig and search for that same feeling that a hot believable record or artist gives to them, and if it doesn't make them feel in the way that a record that they have all ready labeled Hip-Hop has made them feel, then they don't want it. When you learn something, that is the way you are going to teach it. if you keep giving someone the wrong concepts and ideas after a while it becomes the next generations truth.

WYDU: Was that you I saw on the Sopranos? And weren't you on OZ too?
DoItAll: Yes that was me, I'm trying to get this acting thing popping in a big way such as Will Smith, and other artist who were able to translate their talent on the screen as well as records.
WYDU: Tell us about your affiliation with Affluent Records. You just released a new album and also a DVD in 2007. What do those two releases mean to you?
DoItAll: Affluent Records is owned by Oscar Sanchez who used to work for Def Jam records. It was a co/label deal with him and Red Eye Distribution. Releasing the album and DVD is to keep our fans with something to chew on. We are not trying to be the next big rap group we have Platinum success, we've done a lot or even more then a lot of groups in this industry, but it's our passion that keeps us creating. It's not for the accolades, It's for the love of Hip-Hop!
WYDU: Tell me about your new project "Lyrical Roulette.
DoItAll: Lyrical Roulette is a Internet Reality show where we show rappers how to become Mcee's and beat makers how to become producers. It's Hip-Hop's first Internet reality show due to start airing spring of 2008. I am one of the producers of the show as well as the host. it is a show created by Executive producer Tim Grant, and we have some guest like Mike Bivins, Craig G, Executive Nick, & International P from the fight club, just to name a few. The rappers and producers were picked thru an audition then we selected from the ones who we believed were serious about doing it.
WYDU: What is Lord Gang Worldwide and how did you get your hand into such a wide range of projects.
DoItAll: Lord Gang Worlwide LLc. is a company I started about 3 years ago. I wanted to start a company which could help, network, and assist other companies in different fields specializing in the music industry strengthening their companies and ours thru networking and branding.
WYDU: Thanks for your time Du. Any last words for all the fans out there? An when & where can we see Lyrical Roulette?
DoItAll: Thanks for your time, be on the look out for a wide range of things coming out of the Lord Gang camp, nothing but positivity! Also be on the look out for Lyrical Roulette which will air on YouTube.com every week. & last but not least I am the Director of A&R for Mike Biv's new company Sporty Rich Enterprises. I am blessed and have been blessed Thanks to everybody and everyone who has supported me and us, and anything I have been involved with. Thanks!
Here are some links for DoItAll and also Lyrical Roulette


DoItAll Myspace
Lyrical Roulette
LOTUG DVD Rip
Lords & Redman

And here is an article on LOTUG from a 1994 Rap Sheet newspaper. I am going to be posting up more of this issue in a later post (I know the print is hard to read, but I think if you click on the images it will open a larger photo) I will post a .rar file of this article later today in which I have larger photos (easier to read.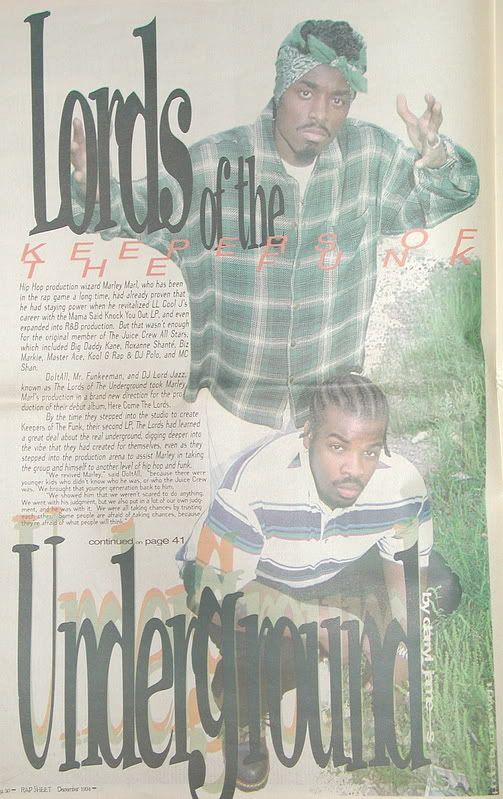 Peace,
-Brian