As I stare out the frozen wasteland that is otherwise known as my front yard, I having been sitting and thinking about some sort of opening paragraph for this weeks "Weekend Lite". I sat and thought, then thought some more. Nothing is really pressing in my mind. Nothing new has gone on in my life. Nor is there anything particularly crazy going on in the world of hip hop. I guess I'll just chalk it up as nothing really interesting to say. Writers block is a bitch. There is of course a certain album that has leaked that I've listened to probably six times in the last two days. Not that I condone that kind of thing. But did anyone really think I was going to wait until late March to listen to it? I know I'm probably the last person to say "go out and support the artist", because I don't support as nearly as much as I should, but that is strictly due to me being broke more than me not wanting to. None the less, when the unmentioned album that leaked this week is officially released AND you like it, support the the unmentioned group by purchasing the album. I have heard of a potential of special items being added to the sale of the album, but I don't have any conformation or details (ahemmmdvdahemmmmaybe), regardless buy it when it drops. (I wrote this before Clap's post, so much for my un blocking the block….hahaha)
SoulClap gets some shine on Kevin Nottingham's Producer's Spotlight series, go there and support WYDU's own!
Goodies From The Inbox
Albums
Editor's Pick For The Week:
Toy Box Scholars
I'm sure Eric will be writing more on this in the future, so I'll save the major accolades for him. Myself, along with E and a couple other WYDU contributors all received two albums is from Providence, Rhode Island's Toy Box Scholars. The Toy Box Scholars are made up of J Hewgs, Dreams, Dialect, Magma Grapple, Studs Ramrod and Opaque Meridian. After Eric started gloating over these cats, I took some time from listening to the fresh leaked eMC album and threw this in the headphones. I fell asleep about five songs into it, which for me is a good thing, cause I can't fall asleep to music I don't like. It just annoys me and I end up putting on something I like. Since then I've listened to their '07 release "We Got The Love" all the way and really liked the jazzy, laid back flows that sounds like (and these are Eric's words, but I tend to agree…sort of) a combination of Digable Planets (minus the chick) and old Hiero. For me, I say it reminded me of Fat Jon, 3582, and Five Deez type of stuff, so fans of those groups will definitely dig these cats. It is an album that will be getting some play in the future.
Favorite Track: Three Friends
Toy Box Scholars – We Got The Love
01 Going Public Introduction
02 Formulate A Process
03 How Ya Need This
04 Her Time Has Passed Intermission
05 Unique Be Me
06 We Got The Love
07 Tribal Connection Three Friends Intro
08 Three Friends
09 Damage Control
10 I Gotta Have It
11 Anti Wall Flower
12 Ladies & Gents
13 It Never Gets Old Intermission
14 Goya Nectar
15 Peace of Mind
Their Debut album:
The Smallest of Rooms

01 Seek The Soul
02 Promise
03 Schools of Bold
04 Spark
05 009 Sonar
06 Setting My Place
07 Enter Jazzmasters
08 Pocket Change
09 exotic Architect
10 Orca Pt 1
11 Orca Pt 2
12 Toy Box Intermission
13 Blackout
14 Things I Do
15 Revitalize
16 Feelin' Kinda Good
17 1976 Store Shopping
Our albums – enjoy! Click on 'em and proceed.
Free to download, free to enjoy. Jam. Wonderful music to listen to. Take a trip and ease that mind of yours, that's the indirect-goal.
Toy Box Scholars Myspace
Donny Goines
One thing I admire as much as good, quality New York boom bap is someone who is on the hustle 24/7, and Donny Goines does just that. Fresh off of his album, "The Excerpt, PG. 1″ (which you can still buy and I recommend), Donny drops his "Off The Books" mixtape.
"OFF THE BOOKS"
HOSTED BY DJ BEDTYME 357


CLICK HERE TO DOWNLOAD FOR FREE
http://www.myspace.com/donnygoines
Canadian Hoser AG Remix
http://www.zshare.net/download/67941504cdc12d/
I haven't really posted many (or any) of the
"American Gangster Remixes" I've been sent. I have an unhealthy obsession for these things for some damn reason. I tend to think that the Black Album remixes were better in overall quality than most of the "American Gangter" remixes I've heard, but I still keep downloading them whenever I find one I don't have. I've been trying to come up with some kind of series highlighting my favorite AG remix tracks, but taking the time to sit down and listen to 80+ albums is….well, mind numbing to say the least. Regardless, I will get to it, at just abou
t the time everyone is totally sick of them, but I've always been a day late and a dollar short on the latest fads (what the f*ck is tweeter?). Anyway, I also have a fondness for the word "Hoser". I'm just jealous that the Canucks up north came up with it. Oh well….anyway, I've only gotten one listen to this attempt and while its not the greatest I've heard, it's far from the worse as well. And hey, it has "hoser" in the title, so up it goes.
MIDIMarc
Speaking of American Gangster remixes that I liked, MIDIMarc's ranked right up there in the top for me. I had seen the name splashed around for awhile now, but only just recently have I gotten into his work much, thanks to that AG remix album. Hailing out of South Carolina, MIDIMarc is bound to make a name for himself in the near future. His "No Lyrics Necessary" release is a collection of great instrumentals that got a lot of play during a recent Madden marathon for me.
For more info on MIDIMarc, check Kevin Nottingham's Spotlight of the beat maker.
Here are some of his projects for free download. I
haven't listened to all of them, but I of course endorse the "American Beatmaker" and "No Lyrics Necessary". Check them all out though….
Jay-Z and MIDIMarc - American Beatmaker (American Gangster Remixes)
http://www.mediafire.com/?8jjyri235m1
Jay-Z and MIDIMarc – The Newprint (Blueprint Remixes)
http://www.megaupload.com/?d=BJAPTSPF
Nasir Jones and MIDIMarc – The Day Things Got ILL (Stillmatic Remixes)
http://www.megaupload.com/?d=B0GNHEVP
MIDIMarc vs The GZA - Mixed Masters
http://www.mediafire.com/?fqvymt4t7zx
MIDIMarc - No Lyrics Necessary vol 1
http://www.mediafire.com/?fzdqxbbzajm
MIDIMarc - Southern Comfort 200 Proof (Various Artist)
http://www.mediafire.com/download.php?4ymybmhdwtl
http://www.myspace.com/beatsbymidimarc
NAS & QUINCEY TONES – GOD'S GANGSTER
Who is Quincey Tones? Well if you have checked on the eMC album, you have heard him on three tracks, including what seems to the proverbial favorite "Wind's Of Change". Since I didn't know much about him, I decided to check out his myspace and found this album for free download. It is Nas accapellas over flipped samples from "American Gangster". I have yet to listen to it yet, but I plan on sitting some time aside tonight for just that purpose.
Download the project for free by clicking here:
or this picture: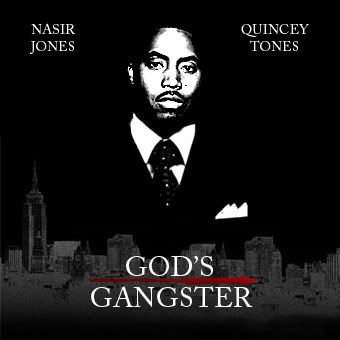 http://www.myspace.com/quinceytones


Videos
Pugz Atomz - The Outlaw of of his "Conversations with a Chamelion"
Gnotes – Missin' You
Here is a video from an artist that I TOTALLY spaced off during all my moves and stuff (like a few others, my apologies to anyone who's material might have gotten lost in the shuffle). Can some smooth mellow type of vibe going on here and from what I remember of listening to a streaming album, it sounded kind of cool. Kind of a weird video, but I can definitely say it's original.
– New York January 25th, 2008
Journey with Street Knowledge as we bring you the Return of the Wu…Wu Tang Clan invades Hammerstein Ballroom on the New York City leg of their 8 Diagram Tour minus the Abbot(RZA). Get a front row invite to the hottest ticket in town as the Clan forms like Voltron and delivers some of their most classic hits from their 15+ year career. Then get a Backstage Pass as we interview Raekwon the Chef, Ghostface Killah and Inspectah Deck with guest appearances by Theodore Unit's Trife, Ice Water's Polite & Erykah Badu. Witness the Clansmen perform in rare form then hear them speak on the latest developments like the much anticipated Cuban Links 2 from Raekwon, another Ghostface album and being signed to Def Jam and Aftermath.
–
http://www.zshare.net/video/686713390…
Shyhiem dissing Raekwon
By now most of you have probably seen this. I'm not sure what the hell this is supposed to be about, but I guess Shyhiem has beef with Rae or some shit. To be honest, I listened to about the first 10 seconds then shut it off. And I like rap beef….when done well.
Tracks
More Wu-Tang
back this week.
RZA & Vincent Gallo – Something I Want (For Real) Extended Version (This is from the Belvedere-Vodka Commercial)
http://www.zshare.net/download/6777282b8cd328/

Rubbabandz – Wu Diss
He goes by the name of Rubbabandz. If you followed Wu in the 90′s you heard of him. Anyway, the only reason I am even giving this my time is because I think the Wu-Tang Clan need something to unite them. Furthermore as I stated in the past, anything Wu-related, and I get my hands on I will send your way. – Killa Beez Promotion
http://www.zshare.net/audio/678892130abf41/
Dom Pachino (Killarmy) – Shot U Down
http://www.zshare.net/download/67894084bdc8e5/
Nut-Rageous f/ KL From Screwball – What's Poppin N*ggas
http://www.zshare.net/audio/6789468042b05e/
Craig G – Just What I Need
http://www.zshare.net/audio/6789499d0104d5/
Rest of the stuff will be back next week…….