Some artists realize that the internet is an important tool in ones arsenal to get their music heard. It's an important part of the game that you have to have some kind of a exsistence in, no matter what your thoughts are on concerning the world wide web. One such artist has learned how to grab the situation and all of it's perks and run with it. NYC emcee Donny Goines has his hustle down. He's made his name known on blogs and internet hip hop sites all over, oh and it helps that he has some quality music that gives me some hope for the New York hip hop scene. Coming with a hardcore style, yet still exposing himself and his inner thoughts, Donny is on the cusp of something big. Currently working on an album which will be executive produced by Dame Grease, Donny still keeps his grind on and was willing to answer some questions for us.
http://www.myspace.com/donnygoines
WYDU: Hey man, thanks for your time. For those that are never on the internet, why don't you drop some background on yourself, who you are, where you are from and what you do?
Donny Goines: My name is Donny Goines. I'm an up and coming artist from NYC and if you still don't have internet access something is wrong with you haha. No but seriously, many people know me from my internet presence so I am a firm believer of new media and all it encompasses. You can google my name to see how much I love the internet haha
W: Time for some of the same ole' generic questions…What was your introduction to hip hop. When was the moment, if one, that you knew this was what you wanted to do?
DG: Mid January 2006. The moment I finished watching the movie "Fade to Black" I knew this was the career for me. It was an epiphany to me and that moment awakened something within me I didn't know was there. I always loved Hip Hop but it was at the particular moment that I knew what I wanted to do with my life.
W: You've quickly been known as one of the busiest artists on the internet. Your hustle is immense. You are very active in getting your music out to the masses through the internet. Do you see it as the wave for the future? What about any negatives that might be involved?
DG: No question. The internet is the most inexpensive form of promotion you can use today and also the MOST effective. The days of CD's are numbered. Eventually it will all be digital and people really need to realize that. I saw that when I first started back in 06 and the very first investment I made was my MAC computer. The best thing I've ever spent money on in my life.
The only negative I see is over saturation. That to me is the biggest setback of this. Mainly because there are way too many people trying to rap right now and the only reason this is happening is because people have easy access. Before the days of the internet you had to earn your strips for real but now you can make a Mysapce page or Blog and all of a sudden your a rapper now? Come on haha. Honestly tho that's the only serious drawback in my opinion.
W: The old story that New York hip hop has "fallen off". Personally, I've been a east coast head all my life (read: NYC, NJ, Philly, ect), but lately have been more into some of the Detroit, Chi-Town and a few other places. What is your take on the state of NY hip hop and if it is coming up short, what can be done about it?
DG: One word. Unification. The problem with New York is that EVERYONE wants to be the King, the Big Dog, the Best and its nothing wrong with that but when this happens you have too much of a competative attitude going on and it tends to hurt the scene more then anything. I feel that
New York is good, its just that people are not really working together to allow the proper voices to be heard. For example, if I knew of a artist in NY that was dope but lets say didn't have the proper resources or channels to put out the music. I might do a collab with them just on the strength of the music so this person can be heard. Why? Simply because they should be and that kind of attitude is what is lacking our city. No one wants to work together for the common cause.
W: What future projects do you have lined up, you have the Minute After Midnight release coming out, correct? What can we expect from that? Any producers or artists in particular you want to work with?
DG: Minute after Midnight is my main focus right now. This is my official debut album and all I can say is that it's going to be my best work to date. I'm taking everything I've learned, everything I've seen over the past couple of years and using all of my knowledge and passion to create something that I feel will really standout amongst the rest. This project is my introduction to the world so to speak so you can be assured that its going to the best music I can make.
I have Dame Grease Executive Producing it and helping me to put the project together along with DJ Static and Dub Z providing the majority of production. Also featured will be Ron Browz, Statik Selektah, M- Phazes and many more surprises. Expect something very musical and different from the norm.
Making of Minutes After Midnight

W: Your music is known to be kind of "heartfelt" in meaning a lot of it seems to be rather personal and, well, from the heart…how do you describe how you make a song or your music in general.
DG: Realistic and vivid would be a good way to describe. Truthfully when I hear music I just write whatever is on my mind and in my heart. I can't help it really, its just how I am as a person so this just translates into my music as well. I've always been known to wear my heart on my sleeve and I never hold back or bite my tongue so its just pours out of me. There is no real process to my songwriting really, its all emotion. As long as I'm feeling the best, the words will come and there you have a Donny Goines record. I'm no
t too big on all the imaginary shit out there everyone else is doing. Not really my style.
W: Alright man, any last words for the readers and fans out there in the internets?
DG: All I want to say is thank you. Thank you to blogs such as yours, that give me the voice to be heard. Thank you to the readers, who enjoy what I am doing and most of all thank you to anyone who listens. I'm truly grateful. Much love and God Bless.
W: Thanks for your time and best of luck in the future
"THE NON FICTION EP"
PRESENTED BY SHAKE & HIPHOPDX


Click here to Download
"OFF THE BOOKS"
HOSTED BY DJ BEDTYME 357


Click here to Download
"THE EXCERPT" PG. 1
INCLUDES PRODUCTION FROM THE LATE
DAVID "DISCO D" SHAYMAN
DJ STATIC AND FURY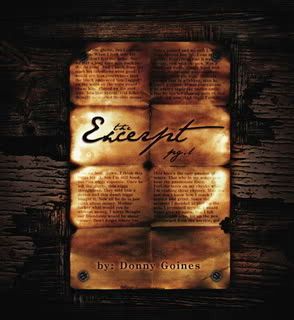 Click here to Download
"ABOUT THE AUTHOR"
INCLUDES PRODUCTION FROM
KWAME, SCRAM JONES, BANGOUT, NICK FURY
NEEK RUSHER, CON?ONE, STREETRUNNER AND FREEBASS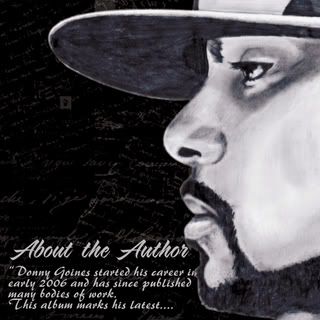 Click here to Download
"THE PROLOGUE"
FIRST STUDIO ALBUM


Click here to Download
Play out in the Rain Prod. by Remot
The Ghetto Life
Prod. by The Graduates