I haven't done one of my Fav Trackslists lately, in fact for over a month or two at least. I wanted to do this like one of my "old school" aka "so last year" type of thing with some free shit that I've been bombarded with lately, the spins, the tracks and the return of "Why?", but as with a lot of things concerning the blog lately, I just ran out of time, so the rest of it will pop up at a later time (Thanksgiving maybe?).
None the less, grab whatever and leave some comments, I'm starting to wonder I'm just typing to myself, although the hits contiue to go up….talk people! This blog works a lot better with some discussion and that was something I never felt we had problems with until recently.
————————————————————————————————-
DJ Concept – Jimi Hendrix: A Tribute To Experience
With the passing of Mitch Mitchell, we officially say goodbye to The Jimi Hendrix Experience. The legacy of the band will live on through their music and I felt the need to mix up, just a small portion, of their catalog. Thanks to J-Zone & Jake from Rhymesayers. Turn the volume loud for this one…
DOWNLOAD HERE: http://www.execute1200.com/hendrix
An Introduction
Star Spangled Banner
Stone Free
Gypsy Eyes
Nit N Run // prod by: J-Zone
Purple Haze
Castles Made Of Sand
Spanish Castle Music
A House Burning Down
Interlude One
Foxy Lady
Midnight Dirt f. Jay-Z
Midnight
Pimp Palace Magic // prod by: J-Zone
Lover Man (Live)
Today's Encore f. Jay-Z
I Don't Live Today
Interlude Two
All Along The Watchtower
Izabella
The Wind Crys Mary
Crazy Mary prod // by: J-Zone
Bold As Love
Fire (Live)


---
————————————————————————————————–
ILLOGIC "ONE BAR LEFT" EP PRESS RELEASE
http://www.divshare.com/download/5906891-722
Please visit Weightless Records for physical copies and instrumentals…
"Sometimes an emcee comes that changes the way that one listens to hip-hop. An emcee that manhandles the English vocabulary to a point where one can almost forget all that's been heard and said before. We have had a few Poets in our generation, Nas, Rakim, who have clearly shaken up the hip-hop community with their visually enticing lyrics and polished intonation. Those such as Nas and Rakim have been heard before, but the name Illogic may not quite ring a bell to the average hip-hop head…as of yet." – hiphopsite.com
Born and raised in Columbus Ohio, Illogic honed his mic skills at an early age in hallway ciphers during high school. Nearly a decade and six studio albums later, through constant nationwide touring, Illogic has shared stages with Rakim, Casual, Atmosphere, Eyedea, Brother Ali, The Roots, Common, and many many more. Most in the underground circle might remember Illogic for his classic debut, "Unforseen Shadows", the first release of now legendary Weightless Records. Following that was the nationally acclaimed "Got Lyrics" and cult-classic "Celestial Clockwork", all sonically molded by the deft hands of Blueprint (of Soul Position and Rhymesayers noteriety).
Between constant touring and raising a family, Illogic has been preparing his return to Weightless Records, as well as his return to the spotlight after a nearly three year hiatus. In Spring of 2009, Illogic will release "Diabolical Fun", a lyrics and melody driven record that balances the poetic nature of a classic Illogic verse with the soulful and "out-there" melodies of album producer Ill Poetic (The World is Ours, Budden/Portishead & NIN/Outkast mash-ups).
In anticipation of this release, Illogic has cooked up the upcoming EP, "One Bar Left" as an appetizer, so-to-speak. The EP will be available for free download on Tuesday, November 25th, and will also be available for digital purchase, with the inclusion of all EP instrumentals.
The Illogic One Bar Left EP is here! After a 4-year hiatus, Illogic has returned with this FREE EP titled One Bar Left, produced entirely by up and coming producer and Ohio native Ill Poetic. Get it now! Illogic's full-length album Diabolical Fun will be released on Weightless Recordings on March 24th. Support the movement!
—————————————————————————-
———————
Keelay & Zaire – The Times (Video & Mp3)
New video from my dudes Keelay & Zaire, featuring vocals from Blu, Fortlive and Nino Moschella – premiering live on MTVU all day today. You can grab the video and embed code below. There are also links to the mp3 below, along with the b side to the single, "Addicts For Real," featuring yours truly. Let me know if you can post the video!

Keelay & Zaire feat. Blu, Fortilive & Nino Moschella – "The Times" (mp3):
Keelay & Zaire feat. Tunji – "Addicts For Real" (mp3):
————————————————————————————————-
Free Download: Tha Connection "Trapeze" album sampler
The most raw and soulful duo never heard! Hailing from Hempstead, NY, Tha Connection (Hus and SmooVth) come with their debut via Domination Recordings entitled "Trapeze" for a digital release this November. Filled with undiscovered gems to keep the underground boom bap and love soul alive. First appearing on 12bits Rawkus 50 release "Stranded On Planet Rock", Tha Connection represented 11 out the 23 tracks on the Rawkus album. With a recent vinyl appearance via Germany's Melting Pot Music that was released in August 2008, on Fella Vaughns produced "Love Song" and another release via Swedens Peakaboo Music entitled "SmooVth and Drums EP", these young men with old souls are on the uprise. "Trapeze" is kept in the true underground classic form, dope Beats and dope rhymes all the way through!
Free Download: Tha Connection "Trapeze" album sampler MP3
Buy it Here: http://www.emusic.com/album/Tha-Connection-Trapeze-MP3-Download/11336713.html

———————————————————————————————-
Big Pooh Video Blog
—————————————————————————————————
RHYMEZWELL PRESENTS
My man Rhymezwell is going to be ticked at me. He sent me this about a month ago, which I ended up losing on the blackhole that is my computer. Then he sent another link last week for it. It didn't work (Z-share is a piece of crap lately) so then he sent me another. I've been so backed up with material that I haven't gotten around to it yet. I did let a friend listen to it and he said it was cool, so I'll take his opinion on it and I have time with it coming up either tonight or tomorrow. I imagine you'll see this cat again in the near future. – Trav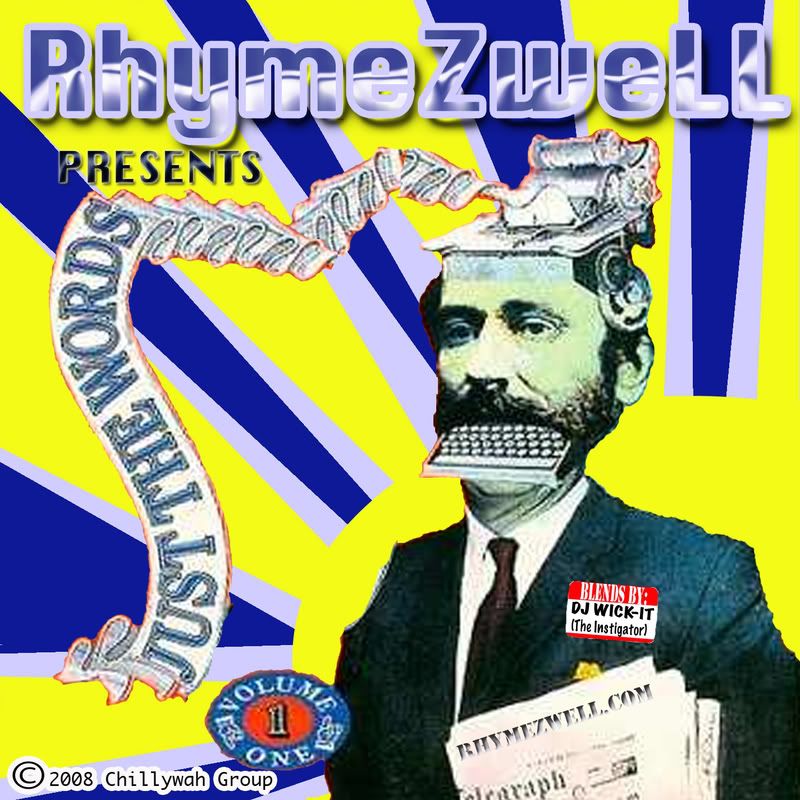 Its Been Two Years in the making!!! Bostons own RhymeZweLL is Finally set to Release his much anticipated Mix-Album Just The Words Vol. 1
Blended and Mixed by Nashville's Number 1 DJ, DJ Wick-it
Download Free Here:
CLICK HERE FOR FREE DOWNLOAD!!!!!

–
www.RhymeZweLL.com
—————————————————————————————————
Top 10 Spins
13. Q-Tip – Gettin' Up

I know a lot of hip hop heads have been hating on the new Q-Tip and I can't defend it a whole lot. I do however really dig "Gettin' Up". It's one of those songs that I think has a very infectious sound to it. The beat and lyrics are both chilled, but very memorable, almost on that "anthem" level.
12. Count Bass D – Can We Hang Out Tonight?

After listening to the first two tracks of our "Top 13″, you can see the vibe I've been on this past month or so. The Count drops an amazing track that is in traditional Count Bass D flavor. I know some cats won't get it, but that's okay. Just move on to the next track and let the rest of us enjoy Count's mellow guitar licks and horn stabs as he successfully pulls off what Phonte was trying to accomplish on the last Foreign Exchange album.
11. DJ Design w/ Oh No & Roc C – Play

Oh No and Roc C on the same track? Dizamn! This beat is kind of weird, in the fact that it's heavy on synths, but the hook and the ill bass line all make it work real well together. Of course all Oh No & Roc C do their jobs well and add that Stones Throw that y'all seem to like so much.
10. Now On – The A

I've always been a sucka for strings and subtle vocal samples and "The A" from D-town's Now On packs those just right for a mellow track for the MCs to get loose over. I wasn't as crazy about this album as Eric from WTR was, but it's still good and this is bar far my favorite track from it.
9. Castor Pollux – 1979

I don't know much about this cat, but Castor Pollux dropped an album "In Name of the Father" with Ariano and then dropped a collection of loose ends, entitled "Guts & Garbage: A Collection of Shit", both of which are really good. This track, "1979″, is a busy track (one of the few on the list) which gets embedded in your subconscious. Castor reminds me another MC, but I'm having a trouble placing it. He's a strong MC that attacks the track. The beat itself is a thing of beauty, with strong littering the soundscape and an uptempo feel comes rushing at the listener. A great track which is among my favorite of the year.
8. U-N-I – Yesterday

I'm probably guilty of lumping together a bunch of the new wave of LA acts. I don't always pay attention to the Pac Div stuff or this group, U-N-I. A couple weeks ago, I was listening to a mixtape or a radio show and this track came on. I had to do a little searching to see who it was from, so when I found it was from U-N-I, I was pleasantly surprised. Musically, this track is a whirling of strings with a harp like sample that gives it an almost angelic texture. Lyrically, U-N-I who consists of Thurzday & Y-O, are quite efficient on the mic as well, taking the song to the heights it needs to be. I'll be looking forward to their future material and dig out the Fried Chicken & Watermelon lp that I've been ignoring on my computer.
7. Zilla Rocca – Flow God Zilla

Give me a track with a well placed rock sample in it, and you have me. Zilla comes off as the lost fourth member of the 1986 Beastie Boys with this deliciously hard edged track with a electric guitar twinge ruling the beat. That's me BITCHES!!! There is so much attitude brought to the mic by Zilla, you'd swear he is going to jump out of the track and slap, only to pull his hand away at the last second and run his hand through his slicked back hair. This needs to be some UFC fighters entry music like right now!
6. The Gent$ – Cold

Armed with a hollow sounding drum sample, th
is Gent$ track offers the unorthodox sound that I tend to gravitate from time to time when done right. It's a simple track, with the bucket drum acting as the tracks backbone then with some synth sounds and vocal samples thrown in for good measure. I can't help but to nod my head while listening to this track.
5. The P-Brothers feat Roc Marciano – Outta Control

You have to dig Roc Marciano, especially on this track which is dominated by the thickest fuckin' bassline that sounds like it got straight jacked from one of the DITC producers back in their hayday. The bass can do it's job on any stereo, good or bad, exemplified by my little stock system in my ride. Traditional hip hop in all it's beauty.
4. Blu & Mainframe – Wow!

At first I thought this song sounded like a shampoo commercial, but the shit is catchy as fuck. Blu is Blu on this track lyrically, as he spits rhymes like an 9mm. Beatwise, as I said, it reminds me of something from an old episode of Charlie's Angels, that straight out of the 70′s funk type of vibe.
3. Black Milk – Hold It Down

I already know someone is going to say "I like so & so track better from the album." Even when I talked to Black Milk himself (interview coming soon) he was surprised when I said it was my favorite track from his album. I guess it's the bouncy beat that just kind of hypnotizes me as my head bobs from side to side with the beat. This could be an album though that sees multiple favorite tracks as time goes on.
2. Tha Connection – Take It Higher (Revamped)

If I had actually done this list weekly like I have always planned on doing instead of the two months it's been since I last done it, this track would have been in the number one slot for a long ass time. Armed with an unknown producer, Vans Cal, the duo of Hus & Smoovth ride this beautiful beat all the way to the finish line. My grown ass could listen to this magical beat for next five years everyday, it's just that good. I can't pick out the sample, but the strings and muted horn just takes the track to uncharted territories. Yes, it's that good.
1. Ludacris – MVP

Never in a MILLION years did I think Ludacris would be number one on ANY list I ever could conjure up. What changed? A fuckin' INSANE DJ Premier beat. It's not that Luda is bad, but he's never been my favorite, but once again, Primo brings out the best in an MC, as he did with Biggie, Jay, and Jeru. This is classic Primo in all it's golden goodness. Fuck, stop reading this and just listen to it.