Wow, I spent most of the day, in between things going on at work, opening and answering email. And I was even around the four days we had off, just not really around the computer. I was already behind on material to post and trying to catch up on interviews I have sitting in the vaults, so it's basically just been crazy. Anyway, we'll jump right into the boat load of material I have sitting in the inbox. As last time, I haven't had much time to listen to some of the material, so it's touch and go. Download at your own risk….but I like to think I'm picking this stuff out alright…
As always, if you like something…leave a comment, turn someone else onto the music and let the nice people that send me this ish know that you are checking it out……
————————————————————————————————-
ScholarMan's new album "GameShift: The Movement"
It drops January!! But guess what, preview all of the songs from his new album for a full month! Yep, a full month! We are putting a preview of every song online for you to check out! You might have already heard "The Answer II" and "What You Puttin' Back" w/ K-Mynez, now hear the rest!
We are calling this an "online release party" – a party that last a month?! Unheard of! But enough of our gibberish, all you have to do (if you so choose) is visit ScholarMan's website listed below between Dec. 1st – 31st and listen! You can also pre-order the album straight from us beginning Dec. 1st as well!
We hope you take the time to listen! GameShift 2009!!
Soganic Music
www.soganicmusic.com
www.scholarman.com
————————————————————————————————-
Willie Evans Jr & Dillon
My boys from J-Ville in action at Dillon's hometown of Atlanta, Georgia……Dope video
————————————————————————————————-
P.A.'s – Rhythmicism Blvd EP FOR FREE DOWNLOAD

featuring AZ, Sha Stimuli, Keisha Shontelle, F.T (Fuc That) and Baby Blak is available for free download and by following the link below you will allow yourself an opportunity to embrace authentic Hip-Hop.
————————————————————————————————–
New Common
http://www.sendspace.com/file/yt3xco
ALSO
Common feat. Cee Lo Green – Make My Day: http://rapidshare.com/files/168016448/common-make_my_day__featuring_cee-lo_.mp3
Common feat. Kanye – Punch Drunk Love: http://sharebee.com/1119ba6a
Thanks to Culture VI
—————————————————————————————————
Fat Tony Interview
Part 1:

Part 2:

Part 3:

And in case you missed the mixtape…..
Here's the mixtape link again:
http://www.zshare.net/download/51407436bd17407e/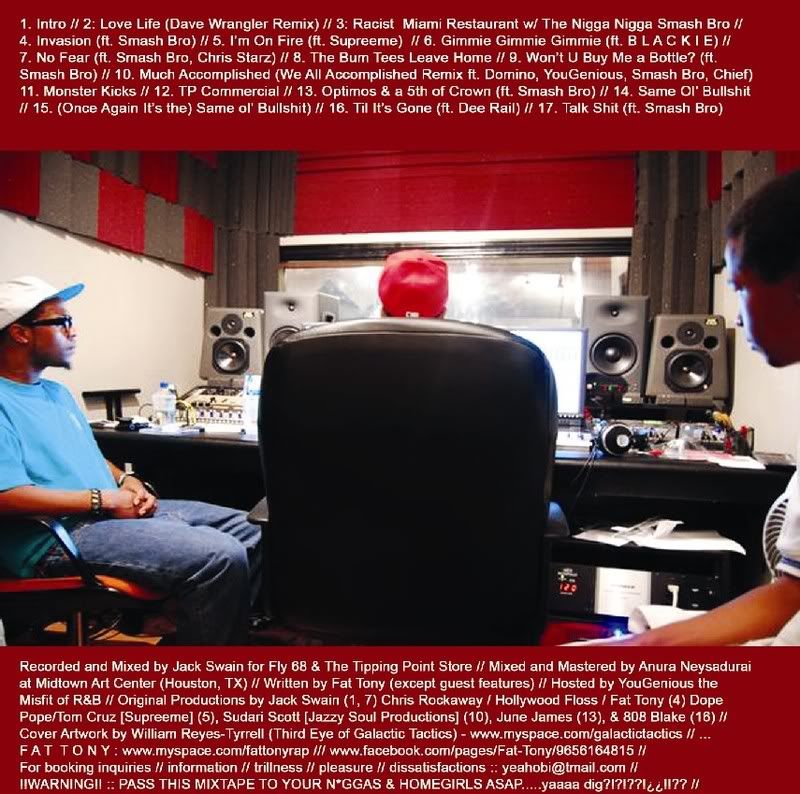 ————————————————————————————————-
Brown Bag AllStars

New track from the Brown Bag AllStars mixtape titled "Dinner's Ready" produced by J57 & DJ Goo…The mixtape is currently available @ Fat Beats NY, (which im sure you know by now!, haha)…BUT also, it will soon be available directly through fatbeats.com for everybody that cant make it into the store, or doesnt live in NY for that matter!!..People can also check www.myspace.com/brownbagallstars for more tracks, as well as info on upcoming projects and events!
Dinner's Ready

————————————————————————————————-


Creative Juices P.P.F. Radio Episode 2
Download it now Free! Over 2 and a hlf hours of exclusive music

The Past Present and Future Radio Show
Hosted By: Life Long
Arranged and Engineered by: IDE
Guest: Critical
Past Section:
- Critical Interview
Biggie Smalls-Party and Bullshit
Diamond D- Stunts, Blunts & Hip-Hop
Masta Ace-Jeep Ass Niguh
Ol' Dirty Bastard-Dirty and Stinkin
Big L-Devil's Son
M.F. Grimm-Emotions (ft. B-1)
Ras Kass-Soul On Ice (Diamond D remix)
Outkast-Wheelz Of Steel
Jeru The Damaja-You Can't Stop The Prophet (Pete Rock remix)
Az-Your World Don't Stop (Buckwild remix)
Redman-Funkorama
Royal Flush-Rotten Apple
Gangstarr – The Planet
CriticalMadness – Independence Day
Link For Past Section: http://www.zshare.net/audio/51566629b03f740d/

Present:
- Critical Interview
Critical-Remember
Busta Rhymes-Shut Em Down
J-Biz-Full Clip
Shorty Black, L.I.F.E. LONG & IDE-Exclusive On The Hush
The U.N.-Golden Grail
Critical, Doc Demeyez & C-Rayz Walz-Passion
Ghostface Killah-Cobra Clutch
Critical Madness-Nothings Changed (ft. Mygrane McNastee)
Apathy & Celph Titled-Drink Specials (Ft Tzarizm, Phil da Agony, Rugged)
The Beatnuts-Se Acabo remix (ft. Methodman)
Alucard – Utopia
Thirstin Howl III-Deceived Me (ft. A.G.)
Ill Bill – Only Time Will Tell (FT Necro, Tech 9, Everlast
DJ Caique – Ganhando Ponto (FT IDE, Critical, Alucard)
Planet Asia – Drama
Critical-In The Cut
Link For Present Section:
http://www.zshare.net/audio/51660702a2da8e85/
Future:
- Critical interview
Midaz-Science Equations (ft. Critical, Sabac Red)
Jake One-Trap Door (ft. MF DOOM)
Elzhi-Motown 25 (ft. Royce Da 5'9)
Blame One & Exile-Disturbed (ft. Sean Price)
Nas-Sly Fox
Reks-Say Goodnight
O.C. & A.G.-True Lies
Royce Da 5'9, Joe Buddens & Joell Ortiz-Slaughterhouse
Hidden Agenda-Marked For Death
Bishop Lamont-My Opinion
Little Vic-The Exorcist
Link For Future Section:
http://www.zshare.net/audio/51660966315b5176/
————————————————————————————————-
"THE PURSUIT" – KING MAGNETIC & CIPH BARKER (prod. by Armyfatique)

Click here to download the first leak "The Pursuit" feat. King Magnetic & Ciph Barker.
Armyfatique, the Dutch production duo consisting of Lostsun & DJ Krylon get set to unveil their
debut compilation album titled The Initiation on January 8th digitally through Coalmine Records.
The Initiation includes 16 tracks all produced by Armyfatique and includes features from C-Rayz
Walz, Vordul Mega, Q-Unique, Mr. Metaphor, Trife da God, Maylay Sparks, Bekay and more!!
————————————————————————————————-
Free Download: Saint "Can't Relate" MP3


Now available for free download is the new single from Saint titled "Can't Relate" featuring Muneshine and Emskee from The Good People. "Can't Relate" is taken from Saint's latest release "About Time" that is in stores now on Pro Se / Domination Recordings.
Free Download: Saint "Can't Relate" feat. Muneshine & Emskee
Saint's WhoMag.net Interview
After dropping "Grown Folk Music", Saint is back with his new album "About Time" featuring a large line up of special guests. Check out this exclusive interview with Saint as he talks about his opinion of being one of the top 1000 artists to watch, El De Sensei, and his latest album.
Saint "About Time" now available on CD & Digital


- UGHH.com
- AccessHipHop.com
- Amazon.com
- CDbaby.com
- iTunes
————————————————————————————————–
A Walk Through Myspace…..
Fokis and Loyalty Digital are proud to present A Walk Through Myspace Vol. One for free download. The project plays host to a vast selection of lyricists from all over the country who connected through Myspace including Donny Goines, Adversaree, Punch of eMC, Danny Boy Money and many more. Also included please find the link for the new video for the internet smash and debut single from the project GET LOOSE
TO DOWNLOAD THE PROJECT FOR FREE PLEASE CLICK ON THE LINK BELOW
http://fokis2k.com/wtmv-download.html

————————————————————————————————–
NUEVE HIP HOP #18

01 Nueve- Intro
02 Ludacris- M.V.P. 03 Q-Tip- Move
04 Evidence- Rain Or Shine
05 H.I.S.D. (Hueston Independent Spit District) Feat. Kay & J.8 Months Lewis- Bring It Back
06 Oddisee Feat.Torae & Tiara Wiles- Gratitude
07 Edgar Allen Floe Feat.Median- What It Is
08 Little Brother- Playin To Lose
09 Blame One Feat.Sean Price- Disturbed
10 Invincible & Finale- Don't Sleep
11 Black Milk- Overdose
12 Buff 1- For You (M-Phazes Remix)
13 Dela Feat.Large Professor & Meemee Netzy- Chill
14 Keelay & Zaire Feat.Blu, Fortilive & Nino Moschella- The Times
15 Pumpkinhead Feat.Murs & Aloe Blacc- Coastal Office
16 Surreal- The Recipe
17 Edgar Allen Floe- Shine
18 Supernatural- Altitude
19 Saigon & Lil Fame- World War IV
20 Evidence Feat.Aloe Blacc & Elzhi- To Be Determined
21 Convinced Feat.Tunji- Goodbye Never
22 Alchemist Feat.Evidence, Blu & Kid Cudi- Therapy
23 Oddisee Last Joint Inst.& Nueve Outro
http://rapidshare. com/files/166589039/Nueve-_Hip_Hop_Vol. _18. zip
————————————————————————————————-
JAKE ONE – THE TRUTH DVD
Seattle Super-producer calls on Rik Cordero to direct debut video from White Van Music
London, England November 25th 2008
Having premiered yesterday on MTV2 and mtvU, Jake One's debut video from his critically acclaimed album White Van Music, released through Rhymesayers Entertainment, is already making its way around the internet having been featured on some of Hip-Hop's most prominent online portals.
The Truth, directed by the highly esteemed video producer, Rik Cordero and the crew of Three 21Media, was shot on location in Philadelphia and Minneapolis. This successful union is also responsible for the up and coming sophomore video from the album Trap Door which features MF Doom.
http://www.youtube.com/watch?v=WokfJUK0nAk
Embedded Code