This feature has proved to be a popular one with groups trying to gain some exposure. Some of the artists are pretty good, some not so good. I try hard to reply back to everyone regardless, although sometimes things get lost in the shuffle. I've even had some very good groups that I forget about, or just lose contact with them. The sheer amount of email I get is almost too much for one person to handle, but I don't see myself getting a secretary anytime soon. I appreciate when groups follow up, and it's a good way for me NOT to forget about you. One such group found that out the hard way. This week's New Artist Spotlight feature is on The Equation, a MC (UllNevaNo) and a producer (Knowledge), who are out of Baltimore. UllNevaNo emailed late last spring (?) or maybe even earlier. I replied back and gave their album a listen. It was a good album, although a little rough around the edges in the sound department. Without making any excuses, we'll just say it's a good thing he was persistent.
The duo has a raw sound, one that reminds me of some of my favorite sounds of the mid 90′s. As an MC, UllNevaNo supplies countless topics (day jobs, hip hop's golden age and women) as producer Knowledge provides the soulful bliss. I can see this duo only getting better and better the more the release material. It's just pure straight up hip hop, dope rhymes and dope beats.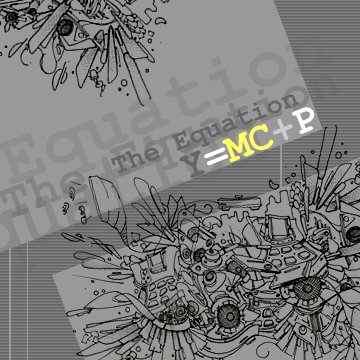 Tracklisting: All Rhymes-UllNevaNo, On the Beats-Knowledge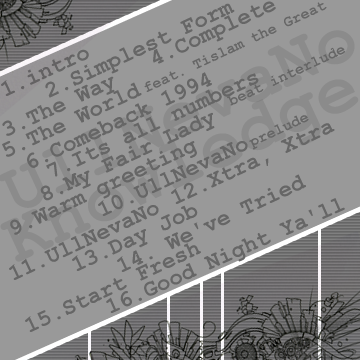 Big thank you: Ullnevano, Tislam the Great, Street Legal Studios(L.B.), Logic and S.Hicks(VA yall) and most important YOU 4 all the love and coming out to the shows THIS IS 4 DA PEOPLE ……….ENJOY……………………………….Knowledge
And da link ……….Link: http://www.zshare.net/download/50724651fd306c48
WYDU: What's good guys, can you introduce yourselves to the readers and give a quick little rundown?
Knowledge: I'm the producer/beatmaker. I look at myself as an average guy from west Baltimore who grew up on 90′s hiphop. I'm just trying to carry the torch. I've been producing for local acts on and off since '99. Now 1/2 of The Equation and 1/5 of the supergroup The Action Figures.
UllNevaNo:I'm the Emcee, was born in Baltimore but raised in Southern California as a military brat, 22 years of age been rhyming for quite sometime been battling for more over 6 years. Both myself and Knowledge are just trying to create well thought out music for those that care to listen.
W: As any good group, I'm sure there is a history, some kind of story to group's conception.Care to give the low down on it all?
Knowledge: Well, we actually met in a thrift store which was one of favorite spots to digg for records. UllNevaNo tells the story best lol
UllNevaNo: Hahahahahahahaha…I believe it was the summer of 2007, I just moved back to Baltimore, my reasons were school and mainly to gain a buzz near the NYC circuit. History was made when I first met Knowledge. I went to thrift store with my cousin, went over to the record section just wanted to see what kind of dope material people were selling. I noticed Knowledge digging and I said to myself "this cat is not digging in dusty crates without being a producer", so I took it as a sign. It looked like Knowledge knew what he was doing, so i randomly approached him like "Yo!! you make Beats!!", he was like "Word". From then on we exchanged the math and now were creating dope music. I say things happen for a reason and that's always a beautiful feeling.
W: Y'all are from B-More, Baltimore for those that are slow. Describe the scene that goes down there. It hasn't always been known for it's hip hop roots. How does that aide or hurt you in your attempts to be put on?
Knowledge: First off, it's a beautiful city. The scene is very diverse which in some ways helps but hurts us in finding our true identity. We're sandwiched in between The South and The North so we tend to be forgotten lol


UllNevaNo:Same as what Knowledge said, in the scene you have the gutter underground heads as well as the hip hop underground. The scene here i noticed is really biased and the cycle continues. There is no support in Baltimore, but there is so much talent in this city its ashamed that were slept on like there is no dope hip hop coming out of Baltimore.
W: What kind of influences do you guys have, as far as both production influences and MC influences? As a whole, what regions tend to influence the artists in Baltimore?
Knowledge: As far production, I grew up on cats like D.J. Premier, J-Dilla, RZA, and them sort of guys that's really sample heavy. As I said before are sandwiched The North and The South, so it's no surprise to attend a show here and hear artist that's "Crunk" and "Boom Bap" perform together.
UllNevaNo: Indeed Knowledge, there have been many shows that we've been booked for and promoters always put us either first or last to rock and out of like six performers the main genre is the Crunk, or Trap hood to hood type rhyme. It kind of makes us uncomfortable but at the same time makes us feel like we have something to prove. Some of those cats haven't been exposed to the underground hip hop so we're giving th
em something new. As far as Emcees that influence me Big L, was the main dude that got me to start taking hip hop and music serious. I have way too many but it tends to change. Canibus, Phonte, Elzhi, Jean Grae, PackFM, Von Pea, Blu and on and on.
W: Describe The Equation's sound for those that might be new to the group? What are y'all trying to accomplish?
Knowledge: One MC and one producer. Good beats and dope rhymes. We're just trying to be a breath of fresh air from the city smog.
UllNevaNo:Trying to bring that Blu and Exile, Kev Brown and LMNO tag team kind of vibe with dope beats and dope rhymes, with conceptual songs that the average person can relate to.
W: The album you guys have out is "Y=MC + P"…you know I have to ask the significance behind the title….
UllNevaNo: We wanted to debut something incredible and definitely make a good impression when people hear us. We basically flipped the actual algebraic equation Y=mx+b, and made it into our own. To add the icing to the cake, we sample bits and pieces from the move "pi". If you haven't seen the movie do your self a favor and rent it. It is basically an independent version of the movie with Jim Carry "23″ but it actually made you think and believe that everything in life is a considered pattern in numbers. We thought the concept was dope so we ran with it. I actually got inspired watching that movie more than 3 times.
W: How long did you work on the album? What went it to it? How do you think you've grown as artists since it's release?
Knowledge: It took longer than it should lol. A lot of dedication to hiphop went into it. Through out this project we not only grew as artist BUT very good friends. That was just the beginning.
UllNevaNo: We were actually working on the album when I was trying to finish up my "Recapture the Essence E.P." prod. half by MIDImarc from South Carolina. The album took about a year and a couple months to finish. We have grown largely as artists, we're always sharing new concepts, and ideas for upcoming projects. Knowledge is a real good friend as well, sometimes we don't even build on music, link up, chill and crack a brew or two and just build.
W: What can a new listener expect to hear on "Y=MC + P"?
Knowledge: Good Music for the everyday people. Some dope concepts. I mean, the album is very raw but dope lol.
UllNevaNo:Yes indeed its very raw. The quality is not up to par, we recorded a large portion of the project in knowledge's basement. We didn't care how it sounded cause we were releasing it for free anyway to the masses. We just wanted to get our message across, when you listen to the album peep the concepts and take it with value.
W: U'llNevano, you partake in the fine art of battling, what makes a good battle MC and how is it different from creating a song as far as the mindstate goes?
UllNevaNo: I grew up watching heads like Iron Solomon, Thesarus, NoCanDo, Dumbfoundead, those cats I mentioned are very good battle emcees, you have to have great charisma, confidence, punchlines, punchlines, punchlines i cant say that enough and crowd control. Im sure you heard the myth about battle emcees cant make good songs, you have to like turn that battle mode switch off when creating songs which is very hard for some battle emcees that battle 24/7, im known as a battle emcee first before a artist.


W: What future projects do the two of you have going on? What can we expect?
UllNevaNo: Well me and Knowledge just wrapped up our next project called "Day Job E.P." and were physically are going to press it up looking at early summer. It's a 9 cut conceptual album about a day job from the eyes of a musician. A lot of people can relate to this project from being sexual tensions with your female co-workers, or waking up every morning like a daily routine etc. I don't want to spoil it but were really excited about this project. I'm all about releasing free music to the masses so I'm going to start a color series of mixtapes over known underground producers/emcees. I'm working on evidence's (of dilated peoples) instrumentals called "The Color Purple"( him releasing the purple tape instrumentals) then a kev brown series titled "The Color Brown" if you catch where I'm going with it, its still in the fetus process but its in the works.
Knowledge: After our E.P. watch out for the Action Figures album which is a collab with us and a group called Makeshift Deluxe..DOPE SHIT. I have a couple of beat tapes and remix albums on the way and BEATS BEATS BEATS
www.myspace.com/knowledgebeats
W: As we get ready to wrap this up…..Name your top 5 MC's and top 5 producers….
Knowledge:
1. D.J. Premier
2.J-DILLA
3.Dr. Dre
4.RZA
5.Me who else haha naw though it's too many to say I'd give it to Madlib
UllNevaNo:
1. Big L
2.Canibus
3.Elzhi
4.Mf Doom
5.Phonte(of Little Brother)
W: Last words?
UllNevaNo: We definitely appreciate those that took the time out to download the free album feed back and criticism is always welcome, shouts out to Tislam the Great, the whole unison collective, E.T,, Salim and the Music Lovers, BrakeFast Records, Dj Minus Nine, Dj Remedy, Dj Stretch, J-berd, and One Ton, and the Shady Promoters as well lmao…peace make hip hop not war!!!