A free download from the newest sensation in the LA underground, Tiron. I did an interview with Tiron that I still need to post up when I get the time to type the thing out (sorry Kev). Dude is a cool cat and his music has great diversity with something for everyone. It's all mixed by Denver DJ, DJ Low Key, the hardest working DJ out of Colorado. If you are a fan of the UNI, Pac Div and the stuff coming out of LA, this should be right up your alley. - Trav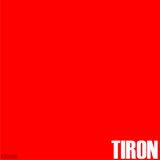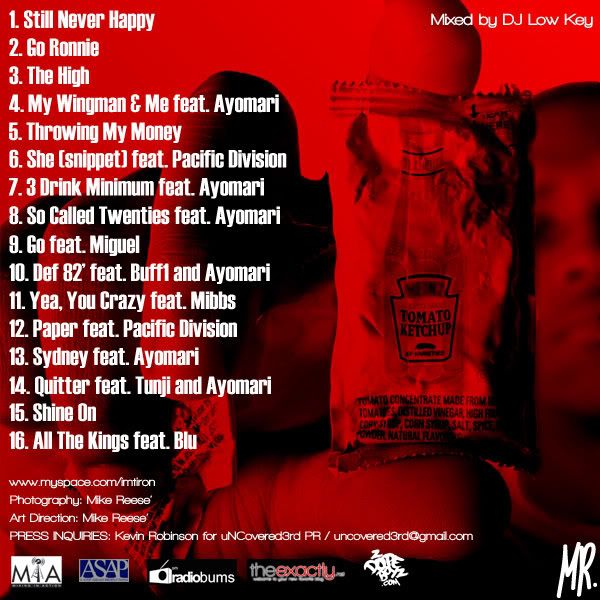 TiRon is a young musician that has worked with the likes of Pacific Division, Blu, Dom Kennedy, etc. The year of 2009 is going to be a monstrous year for TiRon. He has already been picked for the BET Rookie Class of 2009, and he has also been the Hip Hop Official Artist of the Week. He is much more than a hip-hop emcee; TiRon is a true student and connoisseur of music in general. With his debut mix tape, "Handshakes & Pounds," he recorded "Never Happy" (produced by Madlib) where he shows the universal truth that we all as people go through: wanting more than they truly have. He recently was on the "The Exactly Presents: Your New Favorite Mixtape" with his dope single, "Throwing My Money" where we explains the struggles of a young man trying to balance buying new clothes and shoes and keeping the bills paid.
Ketchup has an array of music produced by Cook Classics, Swift-D, and others. The subject matter on Ketchup has something for everyone to feel. Ketchup is more than just "feel-good" music; Ketchup is a collective of songs to take you on an auditory journey that deals with the life and times of a young musician that has the gift of music for his listeners to feel on a real level.