We here at WYDU are all about supporting good, quality music. It also helps if they are good people. Certain people I just refuse to promote, like say New England Patriots fans….but sometimes I bend the rules. That's what I do for the cat they call Storm Davis. If you are new to WYDU, Storm has his band of merry men (pause) known as Poorly Drawn People get mad respect and play around these parts. PDP has built a nice little following around the northeast with strong live shows (so they tell me) and classic mixtapes such as "Nothing Stays Gold" and "Shoot For the Stars, Hit The Ceiling". Storm himself dropped a personal classic of mine in the form of "Kegstand Poetry for the Recovering Alcoholic" (one of the greatest albums names in the history of hip hop) and fellow crew member, Reason also released his own solo, "Gemini Slang". You'll be seeing more from Storm and DJ Sterbyrock in the very near future here on WYDU, we just can't say what, or we'd have to kill you.
In case you need convincing….
Poorly Drawn People – Shoot For The Stars, Hit The Ceiling
Free Download:http://www.sendspace.com/file/w55gbq
PDP is back with a new EP, "Motion Not Emotion". I have yet to hear it, but I'll go out on the proverbial limb and say it's worth copping. Also, if you around the Rhode Island area, you can catch them at their CD release party. Here is all the info you could ever want….. - Trav

Greetings all,
What's the 411, you ask? Well, Mary J, here you go:
Storm Davis
&
Poorly Drawn People
have emerged from their winter hibernation to announce their first release of 2009,
Motion Not Emotion
!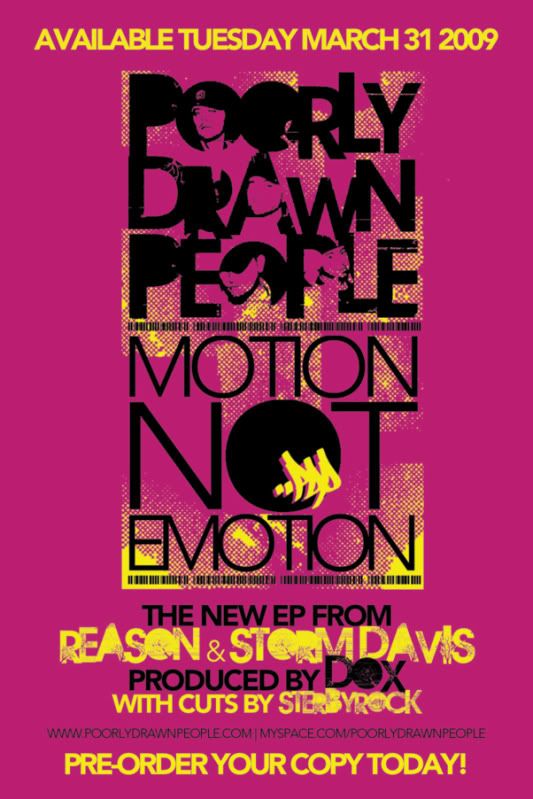 Twelve BRAND NEW tracks from
Storm Davis
and
Reason
, produced by
Dox
, with cuts by
DJ Sterbyrock
.
Featuring appearances by Esh the Monolith and Cas Uno of Labeless Illtelligence.
Appearing in
car stereos
, iPods, and your significant other's playlist on
Tuesday March 31 2009
!
So, how can you get your hands on the CD? Well, here's how: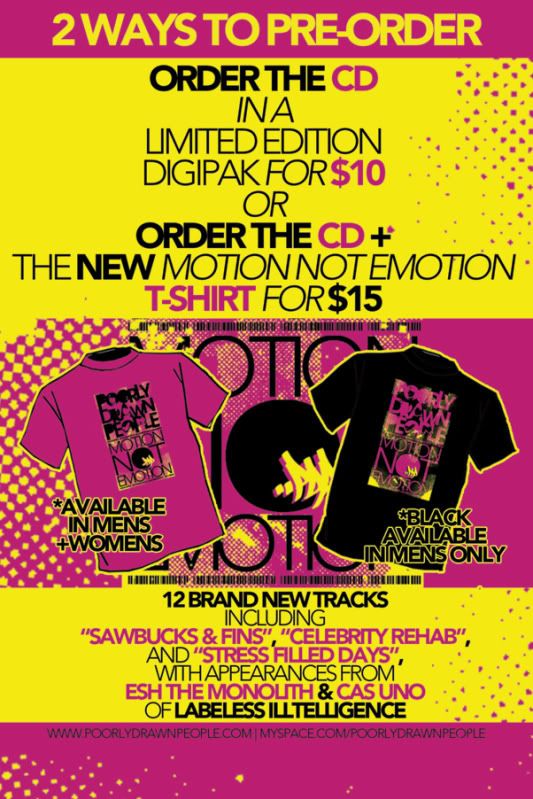 The songs will be appearing on
iTunes
, Amazon, eMusic, and the rest of your favorite e-tailers in the coming weeks, but the only place you can get this music until then is directly through us!
"BUT I HATE THE INTERNET, STORM DAVIS! I DON'T PLAY THAT SHIT," you say.
Well, come join us at the CD Release Show on Saturday April 4 in Providence RI!
Saturday April 4 2009
FIREHOUSE 13
41 Central St, Providence RI
$7 /
ALL AGES
/ Doors 9pm
www.firehouse13.org
—-
featuring performances by
POORLY DRAWN PEOPLE
(Storm Davis / Reason / Dox / DJ Sterbyrock)
METERMAIDS
(Brooklyn NY | www.myspace.com/metermaids)
RADIx
(Worcester MA | www.myspace.com/radix)
Ax Butane
(Boston / Providence | www.myspace.com/axebutane)
Los Wunder Twins Del Rap
(Lowell MA | www.myspace.com/loswundertwinsdelrap)
—-
Hosted by CAS UNO & ESH THE MONOLITH of Labeless Illtelligence
Sounds provided by DJ STERBYROCK
…and really, that's all the information we feel you can handle through the fog of your post-St. Patrick's hangover.
To summarize:
NEW CD
NEW T-SHIRTS
RECORD RELEASE SHOW
Please, validate our lives by donating the cost of a 12-pack, and we'll send you a shiny new CD in return, full of our (sonic) blood, sweat, and the aforementioned beers.
We truly do appreciate all the support you've all given us over the years, it is what helps keep us going. And keeps us able to make announcements like these.
Feel free to spread your excitement all over the place. Like they do at the end of all the really good movies.
You know what I'm talkin about.
perpetually,
Storm Davis
PDP
www.myspace.com/motionnotemotion