Something to get you through the weekend. I'm kinda behind (as usual) on stuff, so there might even be another one come up again sometime this weekend……Other than that…Have a great weekend
I've been on a HUGE soul/funk/jazz kick lately, so when DJ Manipulator from the mighty Social Light Sounds posted up this mix, I had to check it out. It doesn't disappoint in the least. Some common ish, some not so common ish, and just overall entertaining.
In celebration of Nite People's 2nd album "What do you Mean You People?", Social Light Sounds and DJ Manipulator are releasing a FREE mixtape called "Studio Kinda Dusty". ……
http://sociallightsounds.com/new/2009/05/studio-kinda-dusty-free-download/
Hit up Social Light Sounds for the rest of the story and the download link….and check out Nite People while you are their new album while you are at it.
Tone Tank – King of the Surf Guitar
If you read our Louis Dorley (aka Louis Logic) interview this week, you will probably ran across this name in the interview, Tone Tank, and his King of the Surf Rap EP. This is that EP, along with the video…..
The King of Surf Guitar Rap EP is available as a FREE download on Scumlife.com and RadioBelly.com.


The Video:
Tone Tank, member of rap duo Iller Than Theirs and rap collective Nuclear Family, is back with another free solo project entitled The King of Surf Guitar Rap EP. Following the release of his last free EP, The Black Six Sessions, Tone was due for a much needed vacay from NYC. Embarking west for salvation, Tone ended up in a nearly dilapidated hotel in the middle of the desert in the remote Southwest. There, Tone stumbled upon and befriended a 60′s surf guitar legend who shared old dusty recordings and memorabilia with him. Functioning in a half-mad hallucinogenic state, Tone found that the music and relics provided endless fodder for his creativity and The King of Surf Guitar Rap EP was born.
With direction by Paul Korzan and concept, props, and costumes by Tone Tank, the video for the title track, "King of Surf Guitar Rap," is equal parts Fear and Loathing in Las Vegas and Pee Wee's Playhouse. Shot almost entirely in Tone's cramped and dungeonous Brooklyn basement, Tone and Korzan spent weeks on end creating the paper mache set for which Tone could transform into the rapping sea creature. After nightly visits from dinosaurs, luchadores, and debaucherous women, Tone has regained some of his physical and mental capacity and is ready to share the title video, which offers insight into his reclusive and somewhat hallucinogenic state of mind.
Tone & Korzan are proud to present their video, which was just featured on MySpace.com.
Tone Tank- King of Surf Guitar Rap (official video) from Tone Tank on Vimeo.
___________________________________________________________
Dom Kennedy – FutureStreet/DrugSounds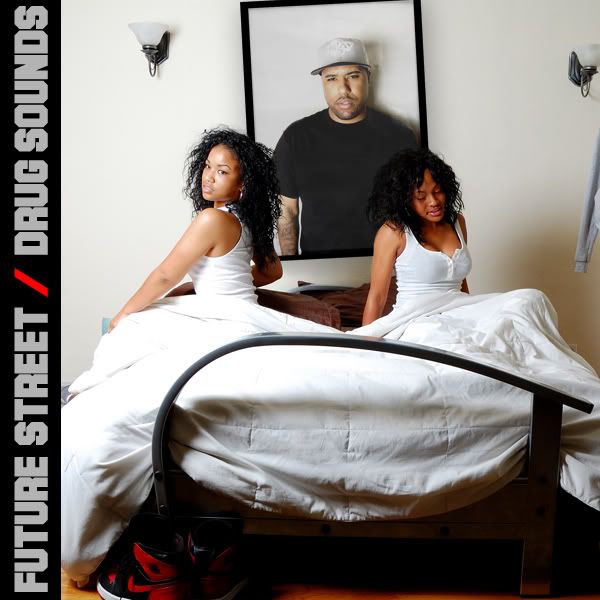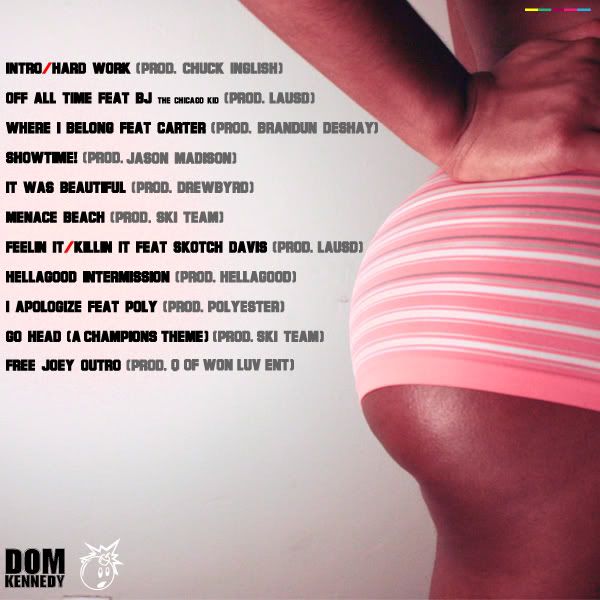 DOM. KENNEDY is the epitome of cool; he exudes the essence of a smooth emcee with a cool bravado cadence and such crafty wordplay. From Leimert Park, California, Dom Kennedy began to record his mix tape, "25th Hour" which was released in the Spring of 2008. With the smash-hit single, "Watermelon Sundae," Dom began to gain more exposure through out the viral world of hip-hop blogs and websites. In December 2008, Dom Kennedy was interviewed by Vibe for their "New West" article to bring more awareness of the extremely talented artists coming out of Los Angeles, California.
With the co-sign of the streetwear giant, The Hundreds, Dom Kennedy's "FutureStreet/DrugSounds"
is set to make an impact sonically throughout the music realm. With production from Chuck Inglish (of the Cool Kids), J Skillz, L.A.U.S.D, Brandun DeShay, Drew Byrd, etc., "FutureStreet/DrugSounds" is an album that is definitely worth listening to. You can expect a wide-range of diverse subject matters on the songs displayed on FS/DS. At such an early point in Dom Kennedy's career, "FutureStreet/DrugSounds" is an excellent introduction to most and a perfect reminder to others that Dom Kennedy is a name to definitely be remembered and recognized.
____________________________________________________________
DJ Eleven – Special Delivery Vol 3
Grab the new mix at www.divshare.com/download/7287130-5bc

SIDE A – MIXED BY DJ ELEVEN
01. Won't Trade (Hedspin Edit) – Q-Tip
02. Good Life (Horny Horn Mix) – Pete Rock & C.L. Smooth
03. Let's Talk About Sex (Super Crispy) – Salt 'N' Pepa
04. I Need Your Lovin' – Cover Girls
05. Starchild – Level 42
06. Weekend ft. Chris Wiltshire – Class Action
07. Last Night A DJ Saved My Life – DCUP
08. Party Lights (Morsy Mix) – Gap Band
09. Dance Our Way – DJ Eleven
10. Walkin' on the Moon feat. Kanye West (UMYO Remix) – The Dream
11. When I Think Of You (Eleven Rough Turf Remix) – Janet Jackson
12. Kiss You Back – Digital Underground
13. Bust Your Windows (DJ Eleven Remix) – Jazmine Sullivan
SIDE B – MIXED BY DJ MOMA
14. Regulate feat Yahzarah – Camp Lo
15. Squeeze Me (A Skillz Remix) – Kraak & Smaak
16. Superstylin' – Groove Armada
17. Everyone Nose (Douster Remix) – N.E.R.D.
18. Pro Nails (Rusko Remix) – Kid Sister
19. Boyz – Dub & Run
20. Int'l Players Anthem (mOma dubfix) – UGK
21. Gangsta Party feat. Bun B & 8 Ball (edit) – Yo Gotti
22. Poppin' Tags feat Twista (edit) – Jay-Z
23. So Sexy feat R.Kelly – Twista
24. I'm Fine feat Young Buck – Colin Munroe
25. Punch Drunk Love feat Kanye West – Common
___________________________________________________________
Events, Beef, Shows….
Joe Budden/Method Man
Apparently, there was some words between Meth & Joe Budden on Wednesday. I'm sure some of you all keep up with this stuff more than I do, but in case you missed it, here is a running order of what went down. I haven't heard it all myself, but I've been a big Meth fan for the longest time, even though I'm a bit disappointed with the new Meth & Red album. Joe Budden's greatest work was the album Ill Poetic remixed, so I guess that shows how much I pay attention to Joe. He's getting to be a little to much like 50, and dissing fools just for the sake of it….whatever
1. Method Man shouts out Joe Budden
http://www.zshare.net/audio/5999320181142e8e/
2. Method Man catches feelings (via Brooklyn) and goes on a rant
http://www.zshare.net/audio/59992946c1e9b250/
3. Method Man says Joe isn't better than him
http://www.zshare.net/audio/59993960f35f6843/
4. Method Man says he never had a ghostwriter
http://www.zshare.net/audio/5999339643b0f74a/
5. Method Man & Redman Freestyle
http://www.zshare.net/audio/599942250519ab73/
In response to
Method Man
appearing on A-List Radio with
DJ Enuff
on Wednesday night.
Joe Buddens
was a phone guest on the Power 105.1FM morning show in NYC with Ed Lover and spoke upon the situation with Method Man
Joe Buddens Phone Call Part 1
Joe Buddens Phone Call Part 2
Method Man
Responds on Power 105.1FM
__________________________________________________________
Free Download: Breez Evahflowin "Over"


Now available for free download is the first single from Breez Evahflowin's upcoming album "Breez Deez Treez" to be released this Summer on Domination Recordings. Breez Evahflowin, a founding member of the Stronghold underground rap collective, emerged as a leading force in the New York and national battle rap scenes during the late '90s and has gone on to work with some of the illest artists in the underground hip hop scene (including Vast Aire, Slug, Chali 2na & The Molemen). The exclusive single "Over" features guest lyrics from Harlem's very own Swave Sevah, named by The Source Magazine as "Best Unsigned Hype" of 2008, and additional vocals by veteran Bill T. Jones performer Shaneeka Harrell.
Free Download: Breez Evahflowin "Over" MP3
(Featuring Swave Sevah & Shaneeka Harrell)
__________________________________________________________
Grand Puba

One of the founding members of Brand Nubian and a seminal artist in hip-hop in his own right, Grand Puba drops a double A-Side single off of his new album "RetroActive" which hits stores June 23rd, on FrankRadio/Babygrande Records. Grand Puba's smooth laid back delivery has been hypnotizing hip-hop heads since the late 1980′s. Expect nothing less from Puba now, as he continues to deliver heat straight to your ear drum. Check out the
double A-side:
"This Joint Right Here Featuring Kid Capri" is straight fire. With a beat reminiscent of 1980s era "White Lines," and the up-tempo lyrics of Kid Capri, Grand Puba is in top form on this track. Adding his skills on the boards, Puba produces in addition to lacing the song with his signature style, unmistakable voice and one-of-a-kind delivery.
DOWNLOAD "THIS JOINT RIGHT HERE FEATURING KID CAPRI" NOW!!!
"Go Hard Featuring Talee" is a head-nodding duet that showcases both Puba's flow and his writing. Puba takes the title line to heart on this track, as he lays down gems that mingle with Talee's sultry vocals, the two complementing each other to a tee.

DOWNLOAD "GO HARD FEATURING TALEE" NOW!!!
Be sure to check out "RetroActive," in stores June 23rd, on Frank Radio / Babygrande
Records. With guest appearances from Q-Tip, Kid Capri, Sadat X, Lord Jamar, Large Professor & many more, and production from Large Professor, Q-Tip, Grand Puba, PhD and others, "RetroActive" is heating it up and taking it back to the summers of the golden era.
____________________________________________________________
Nicolay Bob James Tribute
'Off The Shelf' is the name of a new bi-weekly series on Nicolay Music. For each installment, Nicolay digs into his archives to present you with a gem that has never been released, or that has otherwise been forgotten about. New installments are posted every second and fourth tuesday of the month. Get it while the getting is good… and trust us, it is going to be GOOD!
Read more and download track…..
http://www.nicolaymusic.com/2009/05/off-the-shelf-1-nicolay—nautilus-a-tribute-to-bob-james-free-download.php
___________________________________________________________
The Sandpeople – Hate Aside


The Song:
Crews aren't all the rage in hip-hop like they used to be, especially crews hailing from the Pacific Northwest. Sandpeople, a 10-member collective from Portland, Oregon is here to change all that with "Hate Aside," the first official single from their nine-song EP, Long Story, Short… due out May 26 via Sandpeople Music. "Hate Aside" finds crew-members Sapient, ILLmaculate, Iame, and Ethic spitting over an infectious piano loop accompanied by synth sprinklings and dashes of electric guitar. The verses of each speak directly to the work that Sandpeople have put in, tirelessly determined to get the credit they deserve. Sapient, who is also the producer of the crew, spits "I'm trying to take it like it's mine for the taking / Live in the place with divine innovation / Why would you hate this? / That's a sign that your mind's too prideful, spiteful, invasive / There ain't sh- you can say." It sounds like it's time to take note.
iTunes Pre-order link: http://itunes.apple.com/WebObjects/MZStore.woa/wa/viewPreorder?id=316233316&s=143441

The Background:
Since the 2005 release of Sandpeople's debut album, Points of View, the group has seen a growth not only in their own numbers, but also in their rate of musical output. The Sandpeople collective comprises 10 members and several sub-groups, each recording and releasing their own respective works in conjunction with the group projects. The crew's original members include founding member, Mo-B, as well as ILLmaculate, Onlyone, Gold, iame, Al-One, Simple, and DJ Spark. Later, per request of Mo-B, producer Sapient and rapper Ethic joined the original eight.
Points Of View, an album recorded over a two-week span, quickly grabbed the attention of music fans everywhere, creating a cult-like following and spreading virally along the west coast and underground hip-hop scene. That buzz lead to a yearlong courtship by Epic Records, which, although not resulting in a deal with the label, proved to be a very influential and educational time for the crew. Outside of the collective, various Sandpeople members have received numerous solo accolades as well. ILLmaculate, a Portland native, was crowned champion of the 2004 Scribble Jam rap battle at the age of 17; TheSaurus won the 2006 and 2007 World Rap Championships hosted by JumpOff.TV; and group producer, rapper, and multi-instrumentalist, Sapient, has garnered recognition from his work with artists such as Tech N9ne, Inspectah Deck, Sean Price, and Aesop Rock, just to name a few. Sandpeople's newest effort, the aptly titled EP Long Story, Short…, is the product of the insight gained from their major label courtship and their deeply ingrained work ethic and self-imposed high standards, and serves to show the continued growth of the crew, both individually and collectively. Long Story, Short… will be available May 26 via Sandpeople Music.
Streams:
"Hate Aside"
http://media.audibletreats.com/Sandpeople-Hate_Aside.mp3
"Money Is On Their Minds"
http://media.audibletreats.com/Sandpeople-Money_Is_On_Their_Minds.mp3
____________________________________________________________
Tanya Morgan – Never Enough
Tanya Morgan has just moved to Brooklynati and they're already head over heels in love. Whether it's loving two women equally or jonesin' over a new crush, in their new song "Never Enough," each side of the game is represented, from the pimp (Von Pea), to the simp (Donwill), and even to the family man (Ilyas). Donwill describes "Never Enough" as "the song about unconditional love and how it can seem crazy to love something THAT much, but when it's a person sometimes it's not as crazy as it seems."
With production by Von Pea and Carlita Durand providing the vocals, "Never Enough" features a funk influenced baseline, addictive hook, and horn-laden melody reminiscent of old school '70s tv shows. Listen to the upbeat track and let Tanya Morgan's lyrical mastery remind you of the special people that warm your heart.
Brooklynati is one of the Top Ten best selling hip-hop albums on iTunes! http://i
tunes.apple.com/WebObjects/MZStore.woa/wa/viewAlbum?id=314766861&s=143441

For more information on Brooklynati local events and citywide attractions, please visit www.Brooklynati.com.
Listen to the first single, "So Damn Down" – http://media.audibletreats.com/Tanya_Morgan-So_Damn_Down-DJ_Mix.mp3
Get your virtual tour of Brooklynati here: http://www.youtube.com/watch?v=413Io1IQ2OA
"Never Enough"
Audio clip: Adobe Flash Player (version 9 or above) is required to play this audio clip. Download the latest version here. You also need to have JavaScript enabled in your browser.
____________________________________________________________
New Music Introducing Roknowledge

Poetry is life and life is poetry…. When it comes to ROK there may not be a sentence that betters sums everything up. ROK is versatile wordsmith who has been perfecting his craft for the better part of the last 8 years.
As a founding member of the underground collective The Society of Invisibles, ROK has seen his fare share of stages across the US. Artists of all types know the extreme pressure of performing in groups, yet at times, he has executed the difficult task of individually stepping on to the stage in front of hyped spectators of packed hip-hop shows locally and nationally. As the crowd is silenced by the booming voice and metaphors of this poet, a certain amount of unspoken respect is bestowed by the attention he receives. It is only after he has verbally delivered one of his signature metaphor laced pieces, that he notices the instant calm he blessed the crowd with and leaves them resting in the palms of his massive hands.
As for "ROK's style", unique, honest, vivid and dynamic have been thrown at him. Yet there really is not a set category you can place him in. Whether ROK is telling a story or painting a masterpiece with his arrangement of words there is not a listener that ROK cannot touch. Driven by nothing more than the complicated nature of human emotion ROK's aim is always clear and he speaks from his heart. Be it personal experience, or the stories told to him by others, you can be assured ROK is always going to give you the truth. At time's this poet has been criticized and told his writing is at times 'Too honest', Rok can only reply with "if I don't believe in what I'm writing how I can expect someone else to?" It does not get much simpler than that. Poetry is life, and life is poetry…
http://www.mediafire.com/file/3tlwowdnymy/15. Last Dayz.mp3
http://www.mediafire.com/file/tmtmwajzoiw/06. Housed Within….mp3
http://www.mediafire.com/file/zammqyw3z3y/11. Untitled (Time is Like a Promise).mp3
http://www.mediafire.com/file/lmj3r23ztfd/10. Roknowledge Feat. Deonte of CTL.mp3

___________________________________________________________
Unagi – Reinventing The Eel Sneak Peak and Single
Unagi's new album "Reinventing The Eel" will be hitting stores/websites in June
10
rap songs
+ 5 instrumentals = the dopest hip-hop you will hear in 2009
Download the single:
http://www.unagi442.com/promo/
Tracklisting:
1. Liftoff
2. Grown Man Flowin ft. Motion Man
3. The Making ft. Infinito 2017
4. Four State View
5. Can I Have Your Number ft. Uppanotch
6. Bird of Paradise ft. Chee Malabar
7. That Glow
8. Come Get It ft. Gigio
9. Mondays ft. Substitute Teachers
10. Herb Man Theme
11. Do Ya Feel It ft. Linkletterz
12. Previous Me ft. Orukusaki
13. Top Cat
14. U Stole My Heart ft. Unagi
15. Song of Satisfaction ft. Eddie Meeks

________________________________________________________
Chen-Lo – Ghetto Children
Song Title: Ghetto Children
http://www.zshare.net/audio/60037651b1ff85aa/
Artist: Chen Lo
Album: The Ink Well Mixtape
Liberation Music Group
Description:
Chen Lo is making his mark in a long line of social-political, lyrical
emcees that creatively raised the bar of the art form over its history
(2Pac, Nas,KRS-ONE). "Ghetto Children" is just a sample of where he
can take it.
____________________________________________________________
Roc C
Fans of West Coast underground hip-hop know Roc 'C' for his stellar debut mic appearance on the 2004 Oh No single "Move Pt. 2," produced by J Dilla. Roc's stand-out verse and cameo in the song's video generated quite a buzz, leading to his own solo deal with Peanut Butter Wolf's Stones Throw Records. Roc has made a lot of noise right out the gate.
Roc 'C' returns with a new song for the hustler's, "Hustler's Theme," featuring veteran Queens rapper/ Moesha actor Fredro Starr of Onyx and produced by the upcoming "madman turned producer" IMAKEMADBEATS.
Get it here:
http://www.zshare.net/audio/59919331123e3ac4/
The budding composer IMAKEMADBEATS produced the entire album The Transcontinental, a collaboration between him and Roc 'C', which will be released on E1 Records (formerly known as Koch) on May 19th featuring the likes of Rakka Iriscience, Chino XL, Rapper Big Pooh, and more. IMAKEMADBEATS is set to drop his self-titled solo production album featuring Roc C, Black Milk, Butta Verses, Steele of Smif-N-Wessun, Masta Ace and more this summer on Culture Kings Music.
___________________________________________________________
Cymarshall Law
Greetings – Below is a joint I broke out the vault, its Cymarshall Law's track "Represent" (prod by Mr Joeker). it features Silent Knight. If you've been following them they dropped the "Silent Law" mixtape awhile back. Also is a video of them performing "Mind Control" live in Philadelphia. Enjoy and would love to hear your feedback !!!
Cymarshall Law "Represent" feat. Silent Knight
Cymarshall Law & Silent Knight (Silent Law) live performance clip- Philadelphia
www.cymarshalllaw.com
Also check out Hip Hop Kemp 2009 (Czech Republic) : Method Man, B.O.B, Cymarshall Law, Blu & Exile and more – here
__________________________________________________________
AEON & Tanya Morgan
Lessondary producer
AEON
provides the soundscape for this melodic track featuring
Phonte (

Little Brother

,

Foreign Exchange

)
and
Brittany Bosco
.
Tanya Morgan
–
"She's Gone (aka Without You)"
Featuring
Phonte & Brittany Bosco. Produced By AEON
Brooklynati
is available now in stores and on
iTunes
,
Amazon.com
and other retailers.
Continue to be on the lookout for solo production efforts from
AEON
, as well as production for
Che Grand
and other Lessondary artists in 2009.
AEON | Vastmixed Productions
www.Aggregatedope.com/Blog
www.Twitter.com/AeonGotBeats
____________________________________________________________
Donny Goines
Here is another record from album "The Breakfast Club" dropping next Tuesday. Also, if your in the NY area make sure to come out to the Official Release Party (Sponsored by Im King Clothing www.imking.com)
Sublime Ft. Peter Hadar & Outasight
Prod. by Buckwild
http://sharebee.com/e6765be9
____________________________________________________________
NOBODY FAMOUS
HiPNOTT Records is proud to announce the first album we will be releasing on the new label — Order Up! Vol 3: Chicken & Waffles from Nobody Famous. Tentatively scheduled for a July release, the album is the third from Nobody Famous' Order Up! series. The new album prominently displays Fam's diversity as both a producer and emcee and will surely grab everyone's attention.
Look out for the first single, "Don't Act Like I Never Told You", dropping at the end of the month, accompanied by an amazing video. For now, take a listen to a bonus cut off the album, the remix to "Mocha Soul", featuring Convinced, H.O.P.E, Lite, and El Prez. You can catch the original version of the song on last year's Order Up! Vol 2: Biscuits & Gravy [download].
"MOCHA SOUL (REMIX)" DOWNLOAD LINK
http://sharebee.com/fc21228d
MISC TRACKS
Tab-One (of Kooley High) – Who's That (Produced by Foolery)
http://www.zshare.net/audio/59869297ef071b66/
Nino Bless – Conglomerate (Freestyle) Download HERE via Sendpsace