Wait? What? We are half way through the year? Ya gotta be shitting me…. Well crap, I guess that means I should get my shit together and do my "Half Way There" post that covers all my favorite releases as far as EPs, Instrumentals albums, and full fledged albums (I haven't decided if I'm going to waste my time with a mixtape category, I'm getting to really hate those things for the most part). It's an excuse to come up with some lists, what can I say? It'll be a week long thing, as I try to bang out a bunch of posts over the weekend so I can catch up with other shit that I need to do, questions, type out interviews, bios, and assorted other things. I never get caught up, it never stops.
Today, well kick out the top 10 EPs for the first half of the year. I love a good EP, something I can sit down and a half hour later, when my ADD has totally kicked in, I can move on to the next thing. In this age of shortened attention spans and the shuffle button on the iPod, not many of us can sit down with the same album over the hour and just listen to it. Yes, I do have my listening sessions each evening, but I usually end up doing something while I'm listening, whether it be surfing the net, organizing files on my computer or doing what I'm doing right now, working on the damn blog. Plus a lot of EPs can be found for free on the net. Myself personally, I'd rather listen five or six songs from an artists, than a cat rhyming over every classic hip hop beat, 10 songs that weren't going to make the album, for 25 songs on a mixtape that I will probably never listen to, so I appreciate the free EP as a marketing tool a lot more than the mixtapes in most cases.
When I started thinking about the EPs of the first half of 2009, I was kinda disappointed. I was thinking they were kind of slow, but when I sat down and pounded a list, I had a hard time. There were several EPs that I had to leave off that contain good music. Overall, it was a strong crop of EPs and like I said, most of these are free music, released by the artists to just keep their name out there. Without further ado, here is the "Top 10 EPs for the ADD Inflicted of 2009″
10. (TIE) ScholarMan – A Meeting With Andre Kostelanetz
Sounds Like: Hip-Hop meets classical music, which is what it is, ScholarMan rhyming over beats made from the music of the late Russian composer Andre Kotelanetz.
Summary: While my knowledge of classical music doesn't run all that deep, I do have some knowledge of it. My Freshman year in college, I had to take a Intro To Music class, which basically covered the history of music. They made us buy this 10 tape collection of different periods of music, and the way I got through it was to listen for stuff to sample for a hip hop beat in the whole thing. So basically, I've had a fondness for tracks that use the classical/orchestrated vibe, and that's all this EP is from WYDU favorite, ScholarMan. "A Meeting With Andre Kotelanetz" was a brain child from ScholarMan after listening to a record from the late composer. The beats are nothing short of great, with lots of strings layered over hard drums. On the mic, you know what to expect from ScholarMan with his monotonous flow, which works quite well with this type of project.
Favorite Tracks: "Well Orchestrated", "Not Give Up"
10. (Tie) Serge Severe – Orangutan Slang EP
Sounds Like: Straight up hip hop beats & rhymes. No gimmicks, no cutesy dance moves, just Serge kicking lyrics for days over solid beats.
Summary: Earlier this year, my man Gen Erik of Animal Farm let me know they were going to be in Boise to do a show. I told him I'd bring some cats and check it out. The day of the show, he emailed me saying he wasn't going to make it, but check it out anyway and he'd make sure we got on the guest list. He said half of Animal Farm would be along with fellow Focused Noise artists, Mic Crenshaw and Serge Severe. After waiting around for ever and putting up with a HORRIBLE turnout, we caught Serge's set and I was quite impressed with it. I'd already known about him through his Concrete Techniques LP from last year, but its good to catch acts live. Soon after, we ran a WYDU Spotlight on Serge, and with that, we posted up his free Orangutan Slang EP that shines some light on tracks that didn't make the Concrete Techniques project. Why not, I'm not totally sure, because there is some great tracks on this project. It has no gimmicks, just an MC rhyming over the beat, so for those of you that need flash with your hip hop, this isn't it. Those who just want rhymes and beats, this is what you seek.
Favorite Tracks: "Knock Knock", "Microphone Mandhandler", "Wit The Flow" (WHY OH WHY is this track so short?)
Website: http://www.myspace.com/sergesevere & http://www.focusednoise.com/

9. Whygee & Sunkenstate – Suicide Watch EP
Sound Like: Throw some raw dinginess sound of Black Moon, toss in some numerous early 90′s hip hop and add a dash of the 2000′s in it and you have yourself some dirty, dusty hip hop for the 2000′s.
Summary: Could it be that I show Whygee, Sunkenstate & Kid Hum a little "hometown" favoritism (I consider Denver my second home)? Nah, they deserve all the shine that I've given them over the last six plus months. I would put Whygee up against any MC from any hotbed of MCism and I'd put Kid Hum's beats against anyone elses out there as well. The Suicide Watch EP was shipped over to me by either Kid Hum or Whygee (I can't remember which one now) in late December, and after listening to it, I was very impressed the EP that they had crafted and the fact they were from Denver was an added bonus. The EP has steadily gained plays from me over the past six months, an opposite of what usually happens.
Favorite Tracks: "Cops & Crack", "Adam & Eve"
http://www.zshare.net/download/510280740a49f25a

Whygee EPK

8. Common Market – Winter Ends
Sound Like: A new millennium, northwest version of Native Tongues. Yes, it's a big compairison, but they deserve it.


Common Market are favorites of many of the underground blogs, such as WYDU. Producer Sabazi is quickly becoming one of the best underground producers east of the Pacific Ocean. The EP, Winter Ends, picks up where their full length album, Tobacco Road, left off with dope beats and thought provoking lyrics. Scion tackles everything from suicide to cheating death itself. Probably not your typical hip hop subject matter, but that's what draws me to their music. Coming in at five short and quick songs, Winter Ends still packs a punch and get you geeked up for the next release they plan on dropping.
Favorite Tracks: "Escaping Arkham", "Brasso"
Purchase: http://www.hyenarecords.com/catalog/commonmarket/thewintersendep
Website: http://www.myspace.com/commonmarket
7. Mouth Blocks – It Takes One To Know One
Sounds Like: A white version of Breezly Brewin' over butter smooth beats
Summary: (Yes, it's a cheap rip off of last Friday's post, but you get the jest). Long time WYDU readers will recognize this Yonkers MC, Mouth Blocks. We did a WYDU Spotlight on him late last year and the dude's EP stayed in my rotation for a few months after that (which is no small feat). Well Mouth Blocks is back, with another EP, this time totally free. Produced by Evolve-One, the smooth mellow beats are perfect for the ruff, yet smooth flow of Mouth Blocks. Lyrically, he won't "wow" you, but he brings stuff to the table that most cats can relate to. The songs are all under three minutes, so those with the short attention spans can whip right through a song and the EP in no time flat. Cats that get down with rhymes about just trying to get through life will no doubt dig this little EP. It comes highly recommended by myself and WYDU…
Favorite Tracks: "Can't Deny Me", "How You Doin, My Friend"

Welcome! Sit down, have a glass of lemonade, and while you're at it, sample some of our fine rap music, aged underground in dusty electronic equipment according to a cherished week and a half old family recipe. Imported directly from our very own slum in Yonkers, New York, in conjunction with California's Evolve-One, this rap music meets the highest standards in excellency set forth by Local 108 Crossing Guard's Union. We're so confident that you'll enjoy Mouthblocks' free download of "It Takes One to Know One", that for a LIMITED TIME we're offering a MONEY BACK GUARANTEE, if you enclose three fortune cookie fortunes in a S.A.S.E. addressed to yourself, and text 07734 07734 to Mouthblocks' disconnected cellphone. (offer only valid on Christmas day to residents of Puerto Rico)
Oh, yea, haters can suck an egg and critics get the di-dick. And if that makes me a jerk, well…
IT TAKES ONE TO KNOW ONE
Kind Regards,
Silvio Zwoechenko Head of Marketing Baby Grey Productions Yonkers, NY

Download: It Takes One To Know One for Free: http://mouthblocks.com/
Other Websites : Check: myspace.com/mouthblocks and babygreyproductions.blogspot.com

6. Ill Poetix – The EP
Sounds Like: "The Real Shit", with horns, classic hip hop production done by a mad Scott, Sci-Fi, and the MCs are part of the reason why you should always check for music you've never heard of before.
Summary: I get a lot of music in my inbox and I honestly try to listen to most of it. I love finding new music. Sci-Fi (who should be familiar to those that jam Tha Connection releases as he has done several songs with the NY crew) hit me up about a three man crew out of the States named Ill Poetix that he was doing the production for. The trio was is also on his Advantage Music Group label and wehn I checked out a myspace page link he gave me, the song "The Touch" was the first track I heard and I was immediately hooked. The thing is, it's not just that song though that is dope, all five tracks should be on a person's iPod, but you will be seeing "The Touch" high up on the year end list for my favorite songs. Comprising of MCs The 4th, 808 (Stop 1) and Ivisuai, the group is definitely a group that I will be waiting impatiently for new music from.
Favorite Tracks: "The Touch", "What Y'all Waitin' For"
Websites – Ill Poetix: http://www.myspace.com/wwwmyspacecomillpoetix
Sci-Fi: http://www.myspace.com/scifi1000
Advantage Music Group: http://www.myspace.com/advmusic1234
5. The Physics – High Society
Sounds Like: A combination of a lot of jazzy groups you've heard before and nothing like you've heard before. Upbeat, jazzy, and generally feel good music.
Summary: The new free EP from The Physics barely sneaked in under the deadline and I've been playing it almost daily since Tunji from Inverse sent it to me. Representing the great Northwest, a region I call home and always anxious to promote the great music coming out of the area, The Physics drop a fun, jazzy and catchy album (check "I Just Want To Beat" and tell me you weren't singing it afterwards). After doing some research, I noticed they had a full length release in '07 that completely got by me. If it's anything like High Society, it might be worth tracking down.
Favorite songs: "I Just Want To Beat", "Good"
Websites: http://www.thephysicsmusic.com/blog/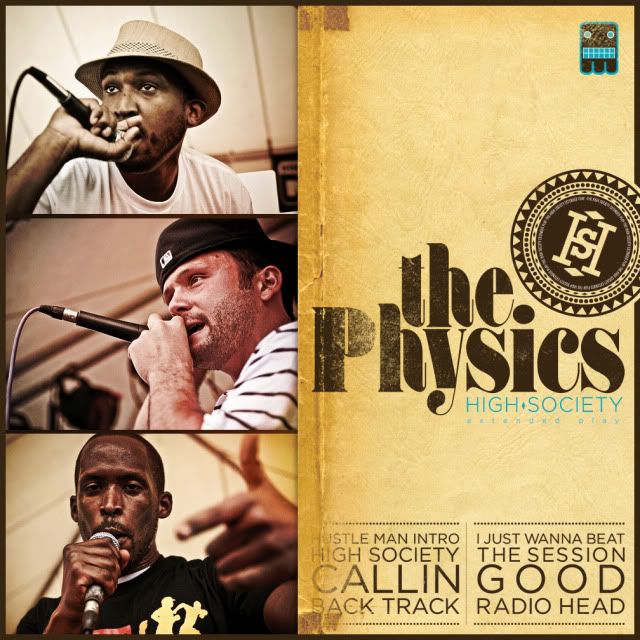 Click on the album cover to download High Society for free!!
Two years after the release of their critically lauded full length debut, Future Talk, Seattle-based hip hop group The Physics are back with June 2009's release of High Society, an eight track EP of new material representing a natural progression both musically and personally. Steeped heavily in references to jazz and soul, Just D'Amato's production (alongside Phee Dill & Dyalect) provides the smoothed-out backdrop against which lyricists Thig Natural and Monk Wordsmith (absent from Future Talk but a notable presence here) do their thing and do it with skill. Featuring guest appearances by beastly Seattle MCs Language Arts ("Back Track") and Macklemore ("Good") as well as one of the year's most buzzed about local duos, the fresh-as-all-hell females of Thee Satisfaction ("Radio Head"), High Society dims the lights on the laidback aesthetic established in Future Talk and invites the listener to get real grown—and enjoy it. While this EP may feel like a main course, don't get it twisted: it's merely just a taste of what's to come, a prelude to an additional as-yet-untitled release slated for later in the summer.

4. Brother Ali – The Truth Is Here
Sounds Like: Political, lyrical, assertive, underground, all over thick bass lines and catchy loops.
Summary: I'll admit that I'm not usually a Brother Ali fan. Yes, I like Ant's beats, and I think he is one heck of a lyricist, but his voice usually ends up grating on me before the end of an album. This time around though, I was impressed enough with everything else involved that it made his voice easier to get with. It's not even that it's an EP, it clocks in at nine songs, it's just good music all the way around, with "Palm The Joker", "Philistine David", "The Believers", and "Baby Don't Go" all getting extended plays from me this year.
Favorite Tracks: "Philistine David", "Palm The Joker"
Website: http://www.myspace.com/brotherali
3. Spork Kills – Beaches Love Us
Sounds Like: The Ventures meets Billy Joel meets Louis Logic (before he "became" Louis Dorley)

Summary: No, it's not the new Louis Logic project. It's the Louis Dorley and Beatman & Rockin' project. When one reads the biography of their latest EP, Beaches Love Us, one has to kinda wonder how something that is a "live band that fuses 60s surf rock with balkan, afro beat and hip hop styles," will actually sound. The answer? Pretty damn good, if you have an open mind when listening to your music. It's something different and the fusion of the smorgasbord of musical flavors works really well. Coming in at a mere four songs, it's like a good carnival ride, just when the good part gets going, it's over. That's a good sign though, wanting more. True, you have to have an open mind when it comes to Louis' new direction, but for those of you that listen to more than hip hop or at least can respect other musical sounds, Beaches Love Us is a fun EP to listen to. You have to wonder what a whole album will be sounding like, hopefully we won't have to wait too long.
Favorite Tracks: "Black Widow", "Blast From The Past"
Website: http://www.myspace.com/sporkkills
2. Has-Lo – You Can Live Thru Anything If Magic Made It
Sounds Like: The RZA had a son with a Ninja princess and gave him an MPC to play with
Summary: I'm not sure if I should call this an EP, a remix project (which it clearly is I supposed) or a mixtape. I will call it a damn good effort. We all knew Has-Lo could rap, and if you were into his music at all, you had heard his production, but did you really KNOW he could produce? Well, Has made sure you knew it after releasing his free EP, You Can Live Thru Anything If Magic Made It. Taking some hip hop classics, personal favorites and other goodies, Has made them his own by putting some of his dusty analoged funk on them. Tracks like Big Pun's "Leather Face", Ghost's "Love Session" and Nas' "Shootouts" all get bottom heavy, pounding drums boost from Hassy Davis. What's next? Time shall see……
Website: www.myspace.com/loreso
01 Intro
02 Big Pun – Leather Face (has-lo remix)
03 O.C. – Time's Up (has-lo remix)
04 Royce Da 5′ 9, Elzhi & Supastition – Best To Do It (has-lo remix)
05 Cormega – Montana Diaries (has-lo remix)
06 Interlude #1
07 Ghostface Killah – Love Session (has-lo remix)
08 Sean Price – Onion Head (has-lo remix)
09 Common – Chi City (has-lo remix)
10 Nas – Shootouts (has-lo remix)
11 Outro
12 (Bonus Track) Tree Woodz – Move the Crowd (has-lo remix)
1. Poorly Drawn People – Motion Not Emotion
Sounds Like: Jim Morrison came back to life and started a rap group
Summary: Sometimes I worry if my personal interaction with artists sometimes skews my view of their music. Case in point with Poorly Drawn People, which is the group Storm Davis is a part of. Storm is an MC that I've had a good blogger/artist relationship over the past two years. I like dude cause he reminds me of my good friends and of someone that I would get a long with real well. So when PDP dropped Motion Not Emotion, I gave it a listen, and actually was planning on being harder on it than the av
erage submission, just because I didn't want people to accuse me of favoritism (not that I give a rats ass what people think). After the first listen though, I knew that this was a good, nah it was a GREAT, release.
I hated to include this as an EP, although that's what the four man group of Storm Davis, Reason, Dox, and DJ Sterbyrock label it. The truth is, this is one of my favorite projects of any sorts this year. I've been blasting their music since running across Storm Davis' solo album, Kegstand Poetry for The Recovering Alcoholic, back in '07. We started talking and he let me know about the rest of his crew. From there, PDP's mixtape, Nothing Stays Gold, dropped in 2007 and last years Shoot For The Stars, Hit The Ceiling got major play on the iPod/car stereo, discman, computer and home stereo.
Well, they graduated from the mixtape scene to an EP, but it's got the flavor and cohesiveness of a full fledged album in the form of Motion Not Emotion. Coming in at tweleve songs, you get the typical PDP tongue in cheek humor, John Friesz name drops (props to whoever knows that name), missed women (and it's fuckin' annoying….listen to the song) and sound drops from "Better Off Dead", the classic 80′s movie. They take everything you liked (or will like) about their mixtapes and put it all on one project. If you have heard them in the past, this needs to be heard. If you haven't heard of Poorly Drawn People, then you needs to hear this…..
Favorite Songs: Stress Filled Days, Might Blow Up, Ain't Hard To Make a Million Dollars, Stealer's Wheel, Better Off Dead, Motion Not Emotion
If you download it (and this is a totally legit download) and you like it, hit up them up and purchase a hard copy, you know those disc things that you can play in those disc thing players. Or just cop a shirt….either or.
Websites: http://www.poorlydrawnpeople.com/
http://www.myspace.com/motionnotemotion
01- Stress Filled Days [04:11]
02- Might Blow Up [03:50]
03- Aint Hard To Make a Million Dollars [04:25]
04- A Quarter Milli [00:38]
05- Sawbucks and Fins Ft ESH [04:33]
06- Stealers Wheel [03:30]
07- Elmer's Lament Ft Labeless Illteligence [04:03]
08- Celebrity Rehab [03:39]
09- Way With Words [04:36]
10- Better Off Dead [03:42]
11- Static [04:20]
12- Motion Not Emotion [05:56]