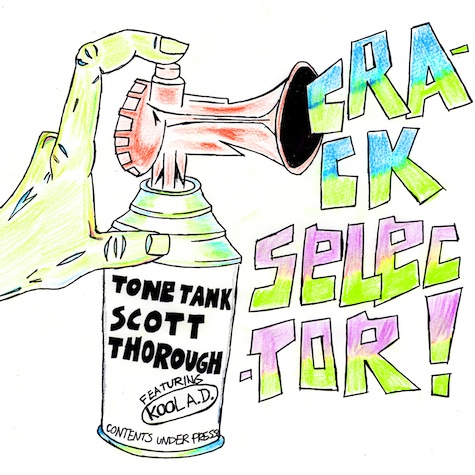 Tone Tank and Scott Thorough are both part of the Nuclear Family with Junk Science and others. You may remember Tone Tank as being a part of Iller Than Theirs with Kray and Scott Thorough has appeared on numerous Nuc Fam joints, including "Roads" off of the first Junk Science album. It's good to hear Tone back in the mix and I've been impressed with Scott's vocals, this shit should be something to check.  Be on the look out for the "lost" Tone Tank interview here in the near future - Trav
Straight from Tone Tank…..
Here's a song I did a song with Kool A.D. from Das Racist. Scotty made the beat. Within 5 mins of coming through to our studio for the first time Kool A.D. was introduced to Probe of Nuk Fam. Within minutes, they smoked together and were shoved into the booth to ramble high-prophetic ramblings in the background for the full length of the track. Also Me and Kool A.D. wrote the last verse (which is a back and forth) on the fly, which was a lot of fun, because we got to rap about Method Man having a fake patois in the movie "The Wackness". We also got to rap about "flowing weird like elephant man, either the reggae singer or the real elephant man". Def had a good time making this one. Airhorn is the new cowbell.
TRACKLIST
1. CRACK SELECTOR (feat. KOOL A.D. of DAS RACIST)
produced by Scott Thorough
cover art by Tone Tank
from the upcoming Tone Tank & Scott Thorough album "SCOTT & TONE", due out in September of 2010! Go out and buy a car so you can bump it in there.